[11/12/2017 05:47]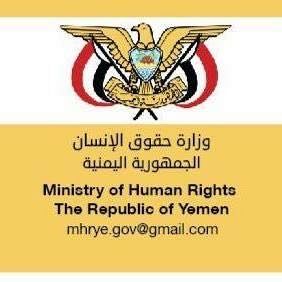 ADEN-SABA
Human Rights Ministry has raised a petition to Zeid Ra'ad Al-Hassan the United Nations High Commissionaire for Human Rights (OHCHR) about Houthi rebellious militia's crimes against Yemeni people in general and General People Congress party (GPC) –in particular. The petition included primary documentation of the violations and crimes committed by the Houthi militia.

The petition which the Yemeni News Agency (Saba) learned about noted that Imamate-Houthi militias have continued to commit crimes and grave violations against the Yemeni people since the early days of the coup until now and seriously increased in the wake of the violent events in the capital Sana'a between the two parties to the coup d'état which ended up in killing the militia's key partner in the coup former President Ali Saleh and senor leaders of the GPC.

The petition stated that the militia has committed crimes of killing, arbitrary arrest, forced disappearance, torture, detonating and demolishing houses.

According to the petition, the militias carried out more than 20 executions against social dignitaries and leaders of the GPC, arrested above 200 persons in unknown detention places, some of them forced disappearances, detonating 11 houses, damaging partially or totally some 100 private-owned properties.

The petition cited the militias violations and crimes against the population Rosaba village in Dhamar province where the militiamen killed several people included Sheikh Dhaifallah Mothanna and his companions after they had killed two of his brothers, detonating three houses and several shops.

The petition also cited one more hideous crime the militia committed in Hodieda province where three children shot dead yesterday by one of the militia's snipers.

The Human Rights Ministry called on the UN High Commissionaire for Human Rights to act seriously by the virtue of his humanitarian responsibility to halt the disastrously deterioration of human rights in Yemen by the putshists militias.


---

Ambassador Mujalli discusses with Polish official agricultural support to Yemen

Foreign Minister meets President of the Jordanian Senate

Yemen, Jordan sign MOU on political consultation

Reconciliation Authority discusses latest political, economic developments

Marib: Local government discusses impact of floods on IDPs

President and members of the Supreme Judicial Council

Leadership Council holds first meeting with the judiciary

Yemen condemns Israeli aggression on Gaza Strip

UNOPS' team gets acquainted with road projects in Aden

Finance ministry, Pragma Corporation discuss implementing unified banking system