[19/11/2017 09:18]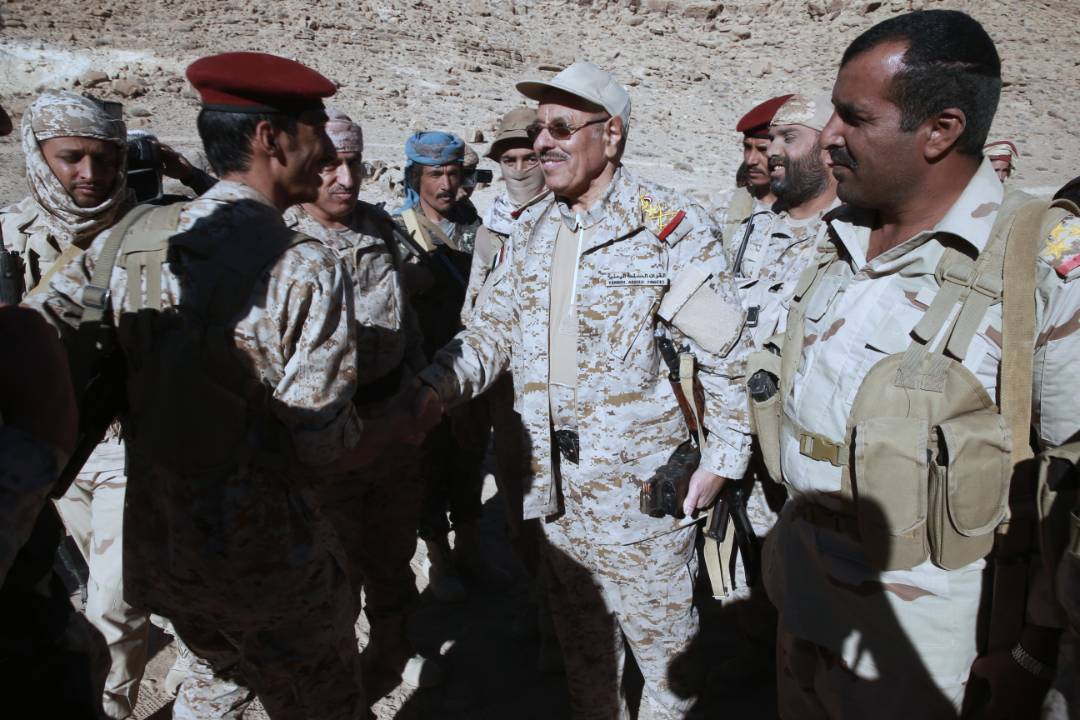 MARIB-SABA
Vice President Lieutenant General (Lt Gen) Ali Mohssen paid an inspection visit to the front-lines battles in Nehm district of Sana'a province. Commanders of Arab Coalition Forces in Marib accompanied (Lt Gen) in his trip aimed to inspects troops and latest combat operations on the ground.

Commander of the Sixth Military Zone, Maj. General Nasser Athibani and Commander of operations Brigadier General Nasser Al-Awadhi received (Lt Gen) Mohssen and briefed him on the latest developments related to the ongoing combat actions in Nehm Front.

The Vice President gave a press statement in which he praised advancements made by the national troops by Suadi-led Arab Coalition in the battles against Houthis militias.

"Houthis group didn't live but on destruction and amid wars, it is the group's history that is well known for all Yemenis. Meanwhile, legal government calls for peace and dialogue which always rejected by Al-Houthi given that he can't live but amid war", said (Lt Gen).

He continued to say:" Houthi group constitutes Iran's claw in Yemen, Arabian Peninsula and region. Yemeni hands would never fired missile on the Holly City of Mecca and Saudi capital Riyadh, heartland of the nation. Nor Yemenis can't target each other and killed civilians in different cities and destroyed infrastructure. All of this is a result of Iranian imported thoughts", said Mohssen.

The Vice President blamed Houthis leadership for seeking to change textbooks in order to fabricate the nation's history and undermine its position. He promised that legal government and armed forces are coming to save Yemenis and put an end to their catastrophe.


---

Yemen calls on the UNSC, IC to remove Houthi-imposed blockade on al-Abdia District in Marib

Vice President discusses with Swedish Envoy peace efforts in Yemen

Arab Parliament: Houthi militia attack on al-Abidia Hospital a war-crime requires international action

Al-Ashabi discussed with Pakistani official military escalation

Report: Up to 2451 crimes by Houthi militiamen in al-Abidia District

Planning Minister appreciates WB actions in Yemen

Houthis-laid landmines kill, mutilate hundreds Yemeni children

FM discusses with Serbian counterpart common concerned issues

Al-Eryani launches an appeal to UN, IC to break Houthi-imposed blockade on al-Abidia District

Political parties alliance condemns Aden terrorist attack