[24/10/2017 03:31]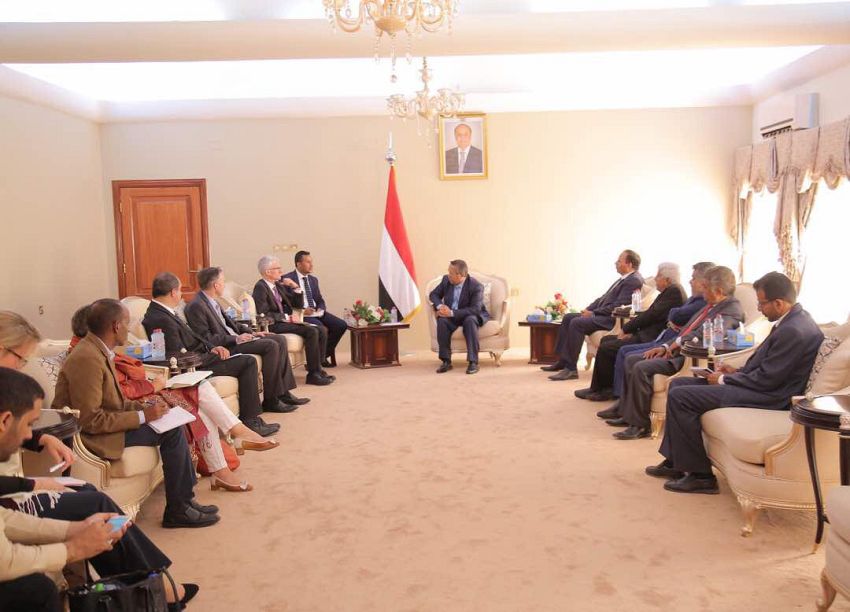 ADُُُُُEN- SABA
Prime minister Dr Ahmed Obeid Bin-Dagher received Tuesday Assistant of the UN Secretary General for Humanitarian and Relief Affairs and Emergency, Mark Lowcock, in Aden.

Bin-Dagher confirmed that legitimate government leaves no stone unturned to facilitate international organizations humanitarian missions, offering all available help.

He reiterated his government's support to durable and comprehensive peace that should be based on GCC's Initiative and its executive mechanism, outcomes of National Dialogue and International Security Council Resolution 2216 that insures ending the coup d'état and peaceful transition of power via ballot boxes.

He said:" If the UN and international community wanted to help the affected people, they should explore real reasons that gave rise to warfare. It is the coup d'état by Houthi-Saleh militias against the State".

"They waged war from Sa'adah, through Amran, to Sana'a and Aden and other governorates that have been experiencing extremely miserable humanitarian situations and crippling damage to infrastructure and state's institutions", he added.

Bin-Dagher pointed out to the great deal of damage the coup d'état brought about of killing people, devastating institutions, public capacities and citizens' houses. He cited criminal actions have been committed by Houth-Saleh's militias in the city of Taiz that is still subjected to siege, destruction and starving that went far beyond logic and rationale.

He went on saying:" Concerning salaries, while militias were controlling the Central Bank in Sana'a, they didn't care about government employees salaries that must be paid regularly, instead they left the state's treasury empty, looted some $ 5.2 billion of the foreign reserves of hard currency of the Central Bank. They devoted all that amounts to finance their war against the State".

The Prime Minister said:" The government had made all seaports in liberated areas in Aden, Mocha and Mukalla ready to receive humanitarian assistance and to distribute them to the people in need".

For his own part, the UN official made clear that UN has been making every effort to provide humanitarian aid all over Yemeni regions.

In the health sector, Marck Lowcock confirmed that UN has expended about $1.3 billion to help controlling Cholera pandemic given that it reached alarming percentage.

For his part, Deputy Premier, Minister of Civil Service Abdulaziz Jubari pointed out to the hardships people have been enduring in the governorate of Taiz which has continued to suffer from the blockade imposed upon the governorate by the Putschist militias.

"As a result humanitarian conditions have been seriously deteriorated so humanitarian relief operations are urgently needed to prove people with food and medicine", Jubari said.

The Minster of Public Health and Population Dr Nasser Ba-Auom asked for relocating the UN offices in Aden given that it is a temporary capital now and it can make their missions easier in the liberated areas.


---

Security Council's members renew support to UN Envoy for peace in Yemen

President al-Alimi congratulates on anniversary of establishing China

Erada and Bin Nahid lay foundation stone for completing Marib International Airport project

Arab Parliamentary Union condemns Houthi intransigence and insistence on rejecting dialogue

Cabinet discusses developments in internal and external situations

Sanctions Committee urges Houthis to stop spreading hate rehtoric, recruiting child fighters

Planning Minister launches 4th evaluation round of Global Partnership for Dev. Cooperation

PM chairs an expanded meeting of the Defense Ministry's leadership in Aden

General al-Eradah opens surgery center in Marib Military Hospital

President al-Alimi receives congratulation cable from King Salman, Crown Prince