[14/10/2017 08:14]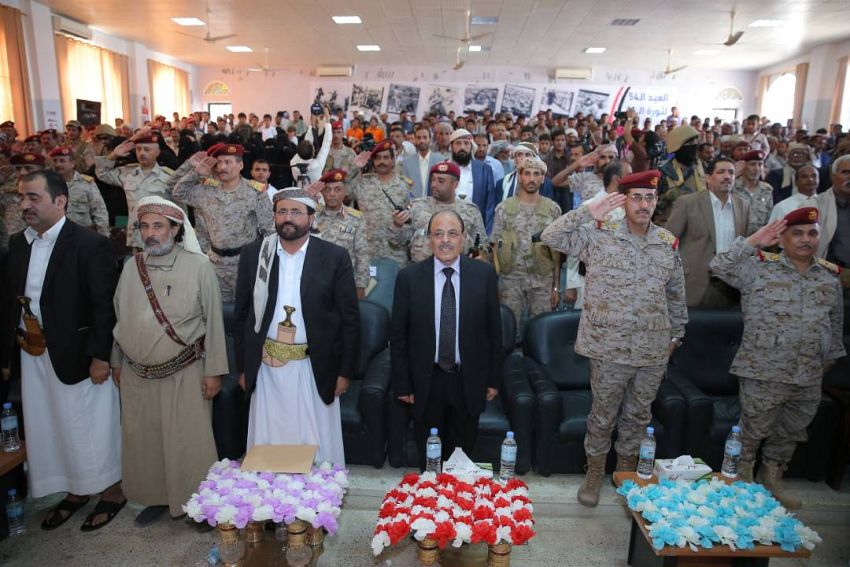 MAREB-SABA
Vice President Ali Mohsen attended on Saturday the celebration on the 54th Anniversary of the 14th of October Revolution here, which was organized by Mareb 's Local Authority under the patronage of President AbdoRabbu Mansour Hadi.

"Mareb is the heart of the republic and its fortified castle, all thanks to Mareb and to any province opened its door and heart to all Yemeni people," said Mohsen in a speech on the ceremony.

He added that this ceremony coincides Yemeni people and its national army and people resistance's sacred war against one of the most hatred gang across history, Houthi's sectarian militias, which wanted to move the historical wheel backward.

While he highlighted the role of the Arab Coalition under the leadership of Saudi Arabia and the United Arab Emirates, he confirmed that the history will not forget the pure blood that defended the Yemeni people.

He note to Houthi militias' crimes of targeting the state's institutions, bombing mosques and schools and killing thousands of people, military personnel and citizens, and practicing worst forms of terrorism and adopting the worst backward project for changing the identity of the Yemeni people and getting red off the revolution's achievements.

He thanked Yemeni teachers for facing Houthi practices.
He called on the leaderships and cadre of the General People Congress to be aware and to integrate with the Yemeni people for fighting Houthis and renewed call to military commanders and political leaders to reject militias' sectarian calls for building sectarian army resembling Iranian Revolutionary Guard.

He reaffirmed government's calls for peace that keeps dignity of the Yemeni people and deep rooting the republican regime and implementation of the federal system.

For his part, Mareb Governor Sultan al-Arada confirmed that the 14th of October Revolution is one of the greatest revolution in the Arab World as it was ignited by unarmed people but has strong faith in decent life and dignity.

"October Revolution has represented significant and exceptional pivot in Yemen's contemporary history beaten the occupation and brought victory to the people's will and the great aims," said al-Arada.

He emphasized on integrated work to restore the thought and and heart of September and October revolutions to regain struggling souls of the former national leaders.

"The current situation in Yemen from its north to south and from its west to east indifferent fields is the result of wrong policies of the consecutive regimes," he said, confirming that they have to work honestly and responsibly to draw the future and forget the past.

He called for fighting terrorists, who play with the interests of the Yemeni people.


---

Ministry of Industry decries Houthi militias for getting the Yemenis starving

Prime Minister: We've to explore permanent solutions to power shortages

Baggash confers with Chinese diplomat over Houthi militias' escalations

Yemen participates in 26th session of the Committee on Science and Technology for Development

Eryani expresses surprise over international silence for Houthi abuse and atrocities against journalists

President al-Alimi: We're very keen to get all detainees released

The Ad hoc committee tasked with revising lists of the students abroad reports to prime minister

Prime Minister chairs joint meeting with the two Ministries of Defense, Finance

President al-Alimi meets with presidency of consultation authority

World Bank offers Yemen $ 207 million in aids