[10/08/2017 04:58]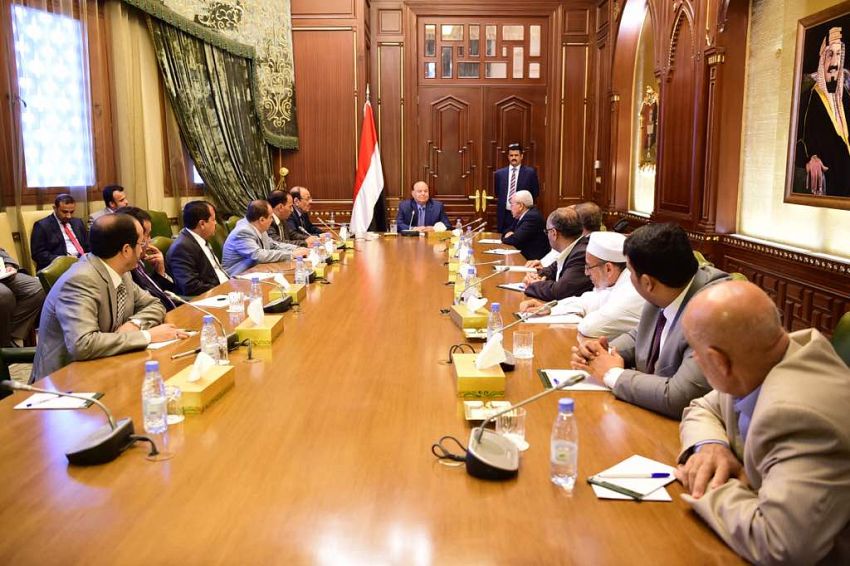 RIYADH-SABA
President Abdu Rabbu Mansour Hadi on Thursday held a meeting here with the heads of the parliamentary blocks in the presence of Vice President Ali MuhsinSaleh and Deputy Prime Minister Abdul-Aziz Jubari.

The president reviewed political, economic and military situations in different cities and governorates in light of victories achieved by the national army, speaking about his meeting with the UN Special Envoy to Yemen EsmailOuldCheikh Ahmed.

He applauded attitudes of the heads of the parliamentary blocs who embodied a courageous stance in the face of the coup.

The president stressed the importance of establishing a lasting and just peace based on the GCC-brokered initiative and its executive mechanisms, the outcomes of the National Dialogue Conference and the relevant UN Security Council resolutions, particularly the resolution 2216.

He hailed efforts exerted by the government led by Prime Minister Ahmed Obaid bin-Dagher to normalize life in liberated areas, particularly in the temporary capital Aden, and alleviate the suffering of the Yemeni people.

He underscored the need to continue the national and pioneering work of MPs supporting the legitimacy and resisting the coup based on tyranny, killing and destruction, emphasizing that the government will provide all support to Parliament and MPs.
"We have been looking for peace which may provide a decent life and better future for all the Yemeni people," he added. "We will continue to seek peace until the dreams of Yemenis are realized".

The president reiterated that the Yemenis will win and the coup militias will be defeated, asserting that security and stability will be brought back to Yemenis.

He also lauded the championships and victories achieved by the national army backed by the Arab Coalition in various warfronts.

"Political forces have only one aim; it is the restoration of the state, and ending the coup and all its repercussions" he went on.

The heads of parliamentary blocs affirmed their permanent standing with the constitutional legitimacy represented by President Abdu Rabbu Mansour Hadi and their full support to the Yemeni people and their just causes, hailing the attitudes of Hadi and his seeking to bring security, stability, and principles of justice, equality and partnership.




---

President al-Alimi returns to Aden

President al-Alimi congratulates his Indian counterpart on the Republic Day of India

President al-Alimi congratulates Australian Governor on National Day

President al-Alimi congratulates Iraqi president on winning Gulf Cup

Leadership Council president stresses need to correct erroneous narratives regarding Yemeni issue

President al-Alimi receives governor of al-Mahrah

President al-Alimi receives al-Ahmar family

President al-Alimi appreciates UK's efforts to alleviate humanitarian suffering, push peace

Prime Minister details President al-Alimi on the government's efforts to manage challenges in different domains

President al-Alim receives UN's special envoy