[12/07/2017 05:02]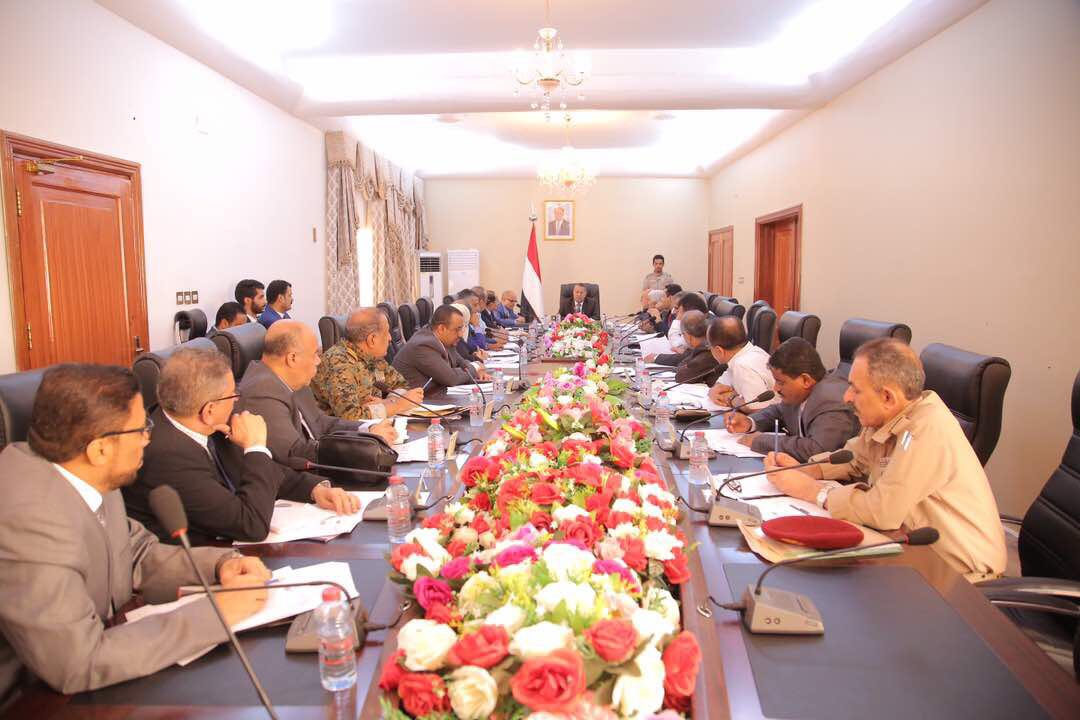 ADEN-SABA

Yemen's Council of Ministers discussed in its regular meeting Wednesday the progress of state restoration given the Saleh-Houthi militias' non-compliance with the Yemeni people and international community's will.

The meeting chaired by premier Ahmed bin-Daghr discussed the efforts achieved to bring the areas under government control back to normal life and to improve the basic services and citizen' life quality in them.

The Cabinet highly valued the army and its backing popular resistance forces' heroic sacrifices and the Arab coalition, especially Saudi Arabia and UAE's generous support.

The government's perspective remains supportive of any constructive and fruitful efforts by the UN Special envoy Ismaiil Ould Cheikh to achieve peace in light of the agreed upon and internationally backed references for settlement.

The prime minister affirmed the importance of basing any settlement on the mentioned terms of reference; the GCC Initiative, National Dailogue outcomes and the UNSC resolutions especially no. 2216.

The premier called these terms of reference the shortest way to peace and to resolving the root of the war- the coup d'état.
The people's will, codified in the National Dialogue Outcomes, and sacrifices for state restoration are things not to be compromised about.

The federal state and new Yemen built on the principles of equal citizenship and fair sharing of power and wealth is the dream of all Yemeni and will be achieved sooner or later, the premier said.

The Cabinet was given an account by the deputies of the interior minister and chief of staff on the security situation in the government-controlled area especially in regards to fighting terrorism and maintaining peace.

The Cabinet affirmed its support for all efforts to maintain peace and thwart the terrorist and criminal elements from executing their demonic bloody operations aimed at sowing chaos and destabilization. Members of the Cabinet called for multiplying the security authority's efforts in this regard.

Bin-Daghr thanked Saudi Arabia, the UAE and members of the Arab coalition for helping maintain peace in the parts already captured by the Yemeni government from the coup militias' hand.


---

F.alhusary: Al-Eryani meets with Chair of Spanish Parliament Committee on Foreign Relations

FM discusses with Italian counterpart latest developments in Yemen

VP acclaims troops' heroic fighting against Iran-backed Houthi militiamen

FM, Italian SP review Yemen developments

Dep. Interior Minister stresses importance of international cooperation in combating terrorism

Al-Wali and Al-Qobati discuss strengthening cooperation with UNCTAD

VP congratulates Emirati counterparts on the Golden Jubilee of National Day

FM meets WFP deputy CEO

Yemeni-Turkish security cooperation discussed

Al-Saadi discusses with Norway's UN representative raising cooperation