[29/03/2017 07:12]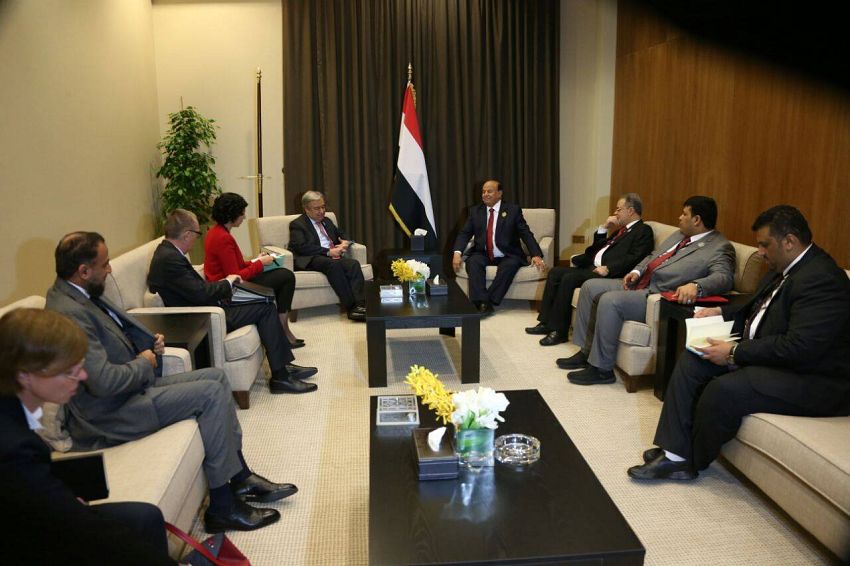 Dead Sea (Saba)- President Abdo Rabbu Mansour Hadi on Wednesday met here with the UN Secretary-General António Guterres on the sidelines of the 28th Arab Summit held in Jordan.

Hadi spoke, during the meeting, about Yemen's updates and efforts exerted to overcome the crises Yemen has been witnessing.

They also touched on the path of peace which is based on the GCC-mediated Initiative, the outcomes of the National Dialogue Conference and the UN resolutions on Yemen.

President Hadi hailed the stances of the United Nations supporting Yemen, its adoption of the dialogue to achieve the change desired by Yemenis and attempts to reach a reconciliation.

The president also indicated to the visit of the former UN Secretary-General Ban Ki-Moon to Sana'a to support the National Dialogue Conference, emphasizing that the Houthis-Saleh Militias used weapons to undermine Yemenis' consensus.

Hadi stressed the importance of the United Nations in implementing the UN resolutions, signaling out that the government is insistent to deliver relief and humanitarian assistances to all Yemenis.

Guterres, for his part, appreciated the reception of Yemen to Somali and other African refugees, exalting the generosity and kindness of Yemenis.



---

President and members of the Supreme Judicial Council

Leadership Council holds first meeting with the judiciary

Presidential Decree on restructuring Judiciary Council issued

Presidential Council continues to discuss developments in economic, service reforms

Hadramawt and Socotra governors sworn in before the head of the Presidential Leadership Council

Appointing Mabkhoot bin Madhi Governor to Hadhramaut

President al-Alimi discusses with US Secretary of State latest developments

Presidential Council discusses reforms, arrangements for national celebrations

President meets leadership of the Defense Ministry and Armed Forces

Republican Decree changing ministers issued