[17/01/2023 01:56]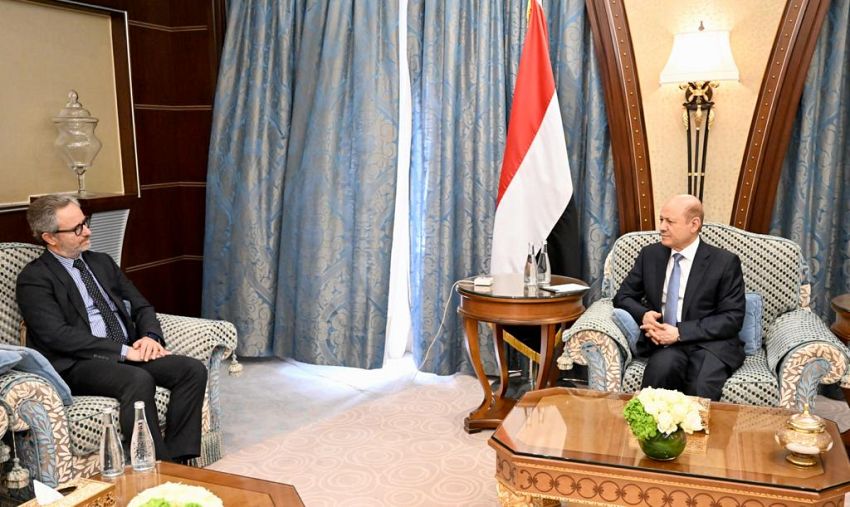 RIYADH-SABA
His Excellency President Dr. Rashad al-Alimi, Chairman of the Presidential Leadership Council has confirmed the commitment of the Presidential Leadership Council and government to a comprehensive and sustainable peace which ensures partnership of the whole Yemenis in power and wealth and an emancipation of the Imamate outdated superstitions.

As he met today, Tuesday, with the Ambassador of the European Union to Yemen Gabriel Munuera Vinals His Excellency (HE) welcomed every good offices by Arab brothers and European friends to support the UN-led efforts to revive the political process in Yemen based on the nationally, regionally and internationally agreed on terms of peace references, mainly the UNSCR 2216.

HE said" Joining efforts and utmost pressures upon the Terrorist Houthi militias, sustaining the legitimate government is the best way to bring the Iranian regime backed Houthi group to the peace track and push the militias to make concessions for the interest of the Yemeni peoples, end the humanitarian suffering and respect Yemen's national and Arab identity".

The President warned regional and international mediators of the dangerous consequences of the submission to Houthi militias' blackmailing and overlooking their grave violations of human rights, the radical sectarian doctrine the militias have been promoting and their destructive correlation to the cross-borders Iranian spoiler scheme.

HE called for deterring punitive measures, first and foremost designating the Houthi group an "International Terrorist Organization".

The President of the Presidential Leadership Council praised the European support for the reforms have been done by the Presidential Council and the government, highlighting the need for the European friends' sustainable economic and developmental interventions to mitigate the world's worst humanitarian crisis.

The EU's Ambassador has confirmed the EU's continuing support for the Presidential Leadership Council and government to improve living conditions and go on re-building the state's institutions.

Mr. Vinals also affirmed the EU's support for the efforts of the UN's envoy to renew the truce and build-up on that to reach a comprehensive peace settlement.


---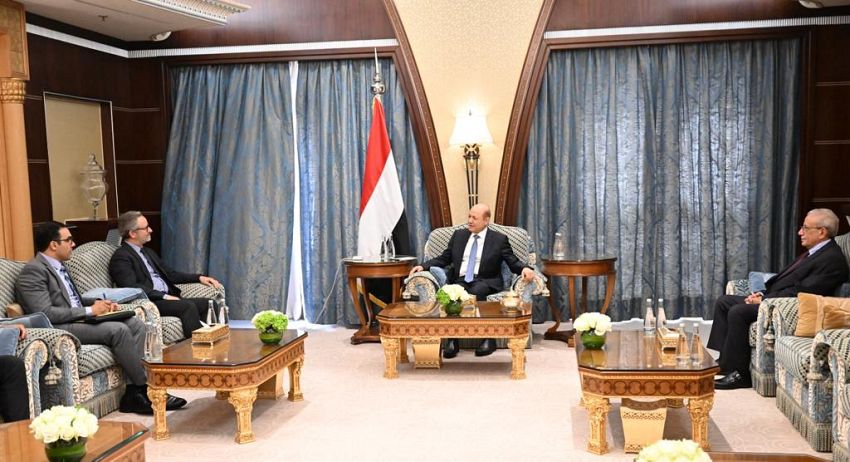 FM: Evacuating all Yemeni citizens in Port Sudan evacuated

Arab-Chinese Forum puts emphasize on the unity, sovereignty and territorial integrity of Yemen

MASAM removes 875 Houthis-laid landmines in a week

Leadership Council chair praises GCC for supporting Yemen and its just cause

Higher Education Minister reviews with ILO implementing apprenticeship program

President al-Alimi convenes high-profile meeting includes Speakers of Parliament, Shura Council

Family killed and wounded as they drove over Houthi landmine in north Yemen

National Investigation Committee holds discussions with a team of Yemen Sanctions Panel

Eryani condemns Houthi storming of annual meeting of Baha'i sect and arrest of 17 participants

Dr. Abdullah al-Alimi praises American role in fighting terrorism, controlling weapons smuggling