[04/10/2022 03:24]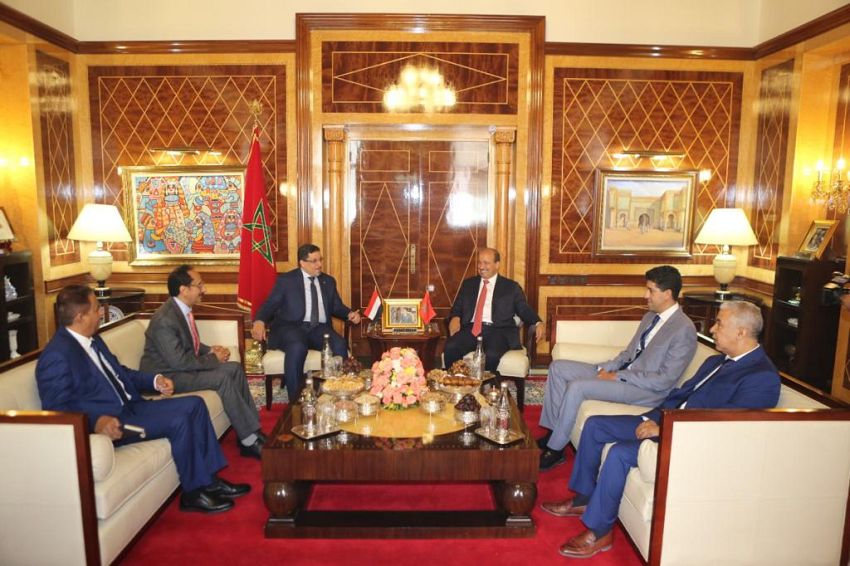 Rabat - Saba
The Minister of Foreign Affairs, Dr. Ahmed Awad bin Mubarak, discussed today with the Chairman of the Council of Councilors of the Kingdom of Morocco, Mr. Al-Naam Mayara, strengthening cooperation relations between the two legislative institutions in the two countries, and mechanisms to support common positions in international forums and the bodies to which they belong, within the framework of his official visit to Morocco.

During the meeting, the Foreign Minister affirmed that the Yemeni-Moroccan relations are rooted in history, and stem from the keenness of the political leadership in both countries, which was translated during the visit through the signing of a number of agreements and executive programs. He stressed that Yemen, despite what it suffers from as a result of the Iranian-backed Houthi coup, it will only be a safety valve for the region and a stumbling block in the way of projects aimed at undermining the security and stability of the region.

He explained that the Houthi militia's tricks and evasion with regard to lifting the siege on Yemeni cities and paying salaries from the revenues of the port of Hodeidah, and using this as an excuse to reject the international truce, no longer fools the Yemeni people and the international community, and everyone is aware of these lies, which reflected the real ugly image of this militia and its pursuit diligently to achieve its interests and the interests of its funders in Tehran, at the expense of the Yemeni people, expressing his confidence that these criminal practices will come to an end and that the people will say their word and will rise to eradicate everyone who wants to confiscate their future and dignity and aspiration for a decent life and equal citizenship away from the charlatan of superstition and the lies of the priesthood.


---

President of Leadership Council, Chinese President discuss latest Yemen developments

Chinese-Gulf Summit affirms support for Leadership Council in reaching solution

Supreme Council of Gulf States affirms support for Presidential Council

Saudi Arabia Crown Prince affirms support for efforts of comprehensive solution in Yemen

Parliament Speaker inspects expanding constructions in Makah Port

President al-Alimi arrives in Riyadh to contribute to Arab-Chinese Summit

Yemen participates in 15th Bali Democracy Forum

Al-Eryani: Iran's regime continues supply Houthi militia with weapons

Mahra Governor confirms significance of qualifying maritime navigation cadre

President al-Alimi flies to Riyadh to participate in Arab-Chinese Summit