[14/07/2022 06:20]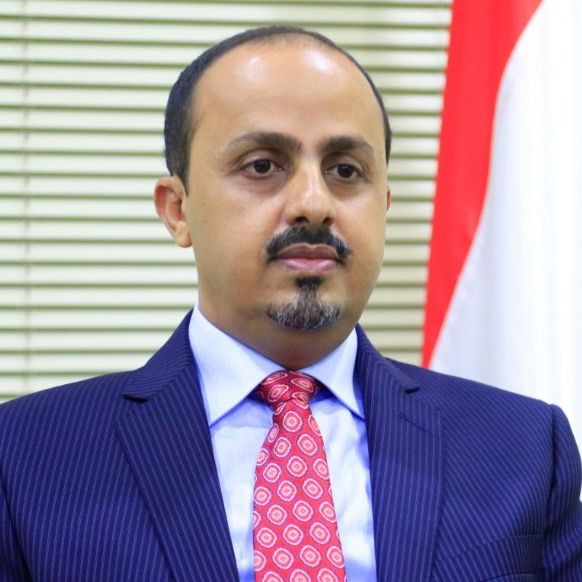 Aden - Saba
The Minister of Information Muammar Al-Eryani said that terrorist Houthi militia's rejection of the UN envoy's modified proposal on the gradual opening of roads to the besieged Taiz city, as indicated by the envoy Hans Grundberg's recent briefing to the Security Council, reflects the militia's real position on efforts to alleviate the human suffering of the country on the shoulders of the Yemenis, and the efforts to calm and bring peace to Yemen."

In a statement to the Yemeni News Agency (Saba), Muammar Al-Eryani added, "The Houthi militia's rejection of all initiatives and proposals that have been put forward since the start of the truce to lift the siege on Taiz and the freedom of movement of citizens and goods between the governorates, confirms once again the militia's policy of starvation and collective punishment, its full responsibility and its indifference to the humanitarian situation, the deterioration of the Yemeni people, and its disregard for the international community.

Al-Eryani stressed that the terrorist Houthi militia had previously rejected the previous UN envoy's plan to open the main roads in Taiz Governorate, before it rejected his second proposal regarding the opening of roads in stages, although it represented the minimum demands of citizens and the militia's obligations stipulated in the terms of the truce agreement that the UN sponsors.

Al-Eryani indicated that the Houthi militia continues to repudiate its obligations, impose an unjust siege on Taiz, and undermine efforts to calm down, despite the concessions made by the government to make the truce successful and alleviate the human suffering of citizens, including those living in the militia's control areas.

Al-Eryani warned against the Houthi militia's exploitation of the truce and negotiation rounds to gain time and mobilize resources and capabilities in preparation for a new cycle of bloody escalation.

Al-Eryani called on the international community, the United Nations, and the UN and US envoys to realize the reality of the Houthi militia, its exploitation of the suffering of Yemenis, and how the militia acts like a stumbling block in the way of calm and the return of life to normal.

Al-Eryani called on the international community to put real pressure on the leaders of the Houthi militia, put them on terror lists, freeze their assets, prosecute them in international courts, support the government's efforts to restore the state, establish security and stability, and put an end to the worsening humanitarian crisis for Yemenis as a result of the war triggered by the militia's seizure of power.


---

FM: Evacuating all Yemeni citizens in Port Sudan evacuated

Arab-Chinese Forum puts emphasize on the unity, sovereignty and territorial integrity of Yemen

Interior minister receives Norwegian MP

MASAM removes 875 Houthis-laid landmines in a week

Leadership Council chair praises GCC for supporting Yemen and its just cause

Higher Education Minister reviews with ILO implementing apprenticeship program

President al-Alimi congratulates Turkish president on winning elections

Yemen participates in Arab Atomic Energy Meeting

President al-Alimi convenes high-profile meeting includes Speakers of Parliament, Shura Council

Head of Central Agency for Census discusses with ILO representative partnership efforts