[20/12/2021 12:15]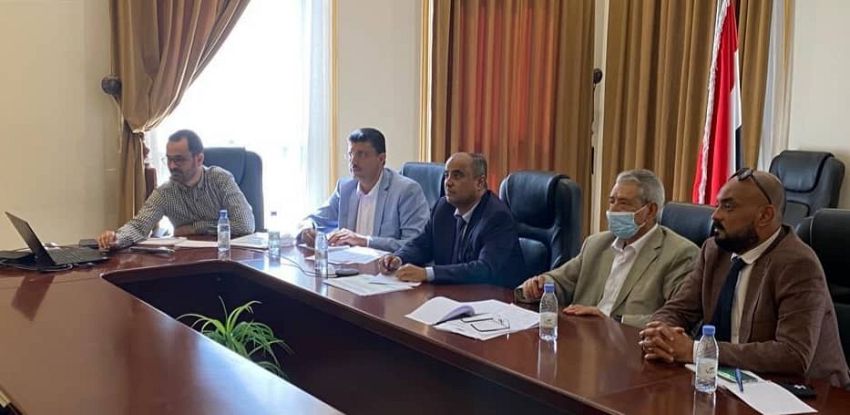 Minister of Finance Salem Bin Breik discussed, via video communication, with the ambassadors of the European Union, aspects of economic and financial support and efforts to alleviate human suffering.

The meeting touched on the challenges facing the national economy and public finance, and the dire effects that resulted from the fluctuation of exchange rates and the catastrophic effects that resulted especially those related to livelihood and service aspects, as well as efforts to enhance aspects of cooperation and joint coordination between the two sides.

Minister Bin Breik reviewed the challenges at the macroeconomic level in general and public finance in particular, and the exacerbation of those challenges and difficulties until the national economy was about to collapse, praising the support of the European Union ambassadors in order to reach a stable and prosperous future for Yemen.

The Minister said, "The decline in the price of the national currency against foreign currencies is one of the biggest challenges, as the ceiling of the exchange rate of one dollar exceeded 1500 riyals in 2021 AD, an increase of 100 percent over the year 2020, and this rise had dire effects in high inflation rates and high unemployment rates below the poverty line. and increase in human suffering.

He referred to the European Union's support for many projects and programs that contribute to achieving economic recovery, such as the joint program to enhance economic resilience and food security and supporting institutions at the central and local levels, the program to enhance livelihoods by contributing to the financing of cash-for-work projects, and supporting programs related to strengthening social safety by supporting and improving methods of building local security and the judiciary.

The Minister of Finance referred to the financial reforms and policies that the ministry has begun implementing in order to sustain public finances and stabilize the economic situation, which included working to improve non-oil revenues by implementing some financial policies, especially with regard to re-pricing the customs dollar rate from 250 riyals to the dollar to 500 riyals.


---

FM: Evacuating all Yemeni citizens in Port Sudan evacuated

Arab-Chinese Forum puts emphasize on the unity, sovereignty and territorial integrity of Yemen

MASAM removes 875 Houthis-laid landmines in a week

Leadership Council chair praises GCC for supporting Yemen and its just cause

Higher Education Minister reviews with ILO implementing apprenticeship program

President al-Alimi convenes high-profile meeting includes Speakers of Parliament, Shura Council

Family killed and wounded as they drove over Houthi landmine in north Yemen

National Investigation Committee holds discussions with a team of Yemen Sanctions Panel

Eryani condemns Houthi storming of annual meeting of Baha'i sect and arrest of 17 participants

Dr. Abdullah al-Alimi praises American role in fighting terrorism, controlling weapons smuggling