[10/06/2021 02:22]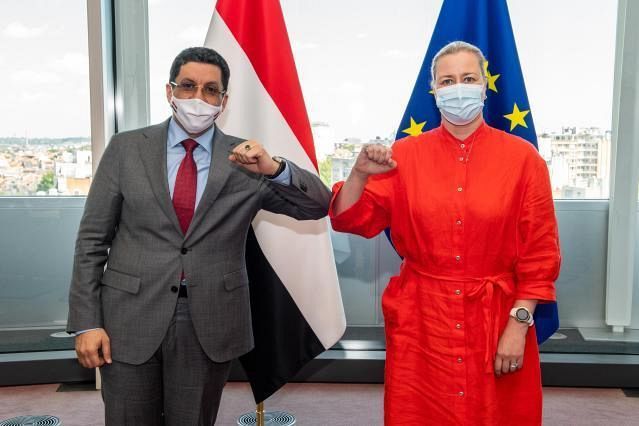 BRUSSELS - SABA
Yemen's foreign minister has clarified in a meeting with an EU official what Houthi terrorists are misleading the international community with.

Ahmed Awdh Bin Mubarak told the European Commissioner for International Partnerships, Ms Jutta Urpilainen that the militia are "making up a fuel crisis in the regions they control in northwest the country while running propagandas that the entry of oil product imports is barred due to [an Arab Coalition] blockade."

This claim is refuted clearly by a number of international reports confirming that the supply of fuel entering Houthi-controlled territories has not stopped and meets the needs for civilian and humanitarian uses.

Bin Mubarak said the militia are also exaggerating to the international community "the size of the population under their control to 80% of the overall Yemeni population, while the fact is that 8% of Yemen's population today live in the regions liberated [from the militia] due to continuing and growing mass displacements in escape from the militia's crackdowns."

The minister pointed out that the Houthi militia are also responsible for depriving public employees in Hodeidah and elsewhere from their salaries by using the customs tax levied on oil imports to finance the militia's incessant wars instead of paying public servants as agreed with the UN Special Envoy Martin Griffiths.

The minister called on the EU to support the Yemeni government to implement its economic program and support the Central Bank in particular to stabilize the exchange rate of the national currency, the Riyal.


---

Major General Al-Zubaidi discusses with US envoy the dangers of the Houthi escalation in the Red Sea and Bab al-Mandab

Al-Hikma Al-Yamaniya and NB sign cooperation agreement to tackle malnutrition in Aden

Al-Sharjabi opens workshop on relationship between climate change, vulnerabilities & human mobility

Yemen and China sign economic and technical cooperation agreement with a grant worth 100 million yuan

Chief of Staff discusses military cooperation with Egyptian naval, air-forces commanders

Yemen joins Sessions of International Development Association

Al-Sharjabi: War affected Yemen's steps to manage the water and environment issue

Leadership Council Chairman receives UN Special Envoy

Chief of Staff discusses military cooperation with Egyptian naval, air-forces commanders

Brig. Gen. Tariq Saleh inaugurates construction of Al Khowkha Central Hospital, announces a solar energy station project