[27/08/2020 07:07]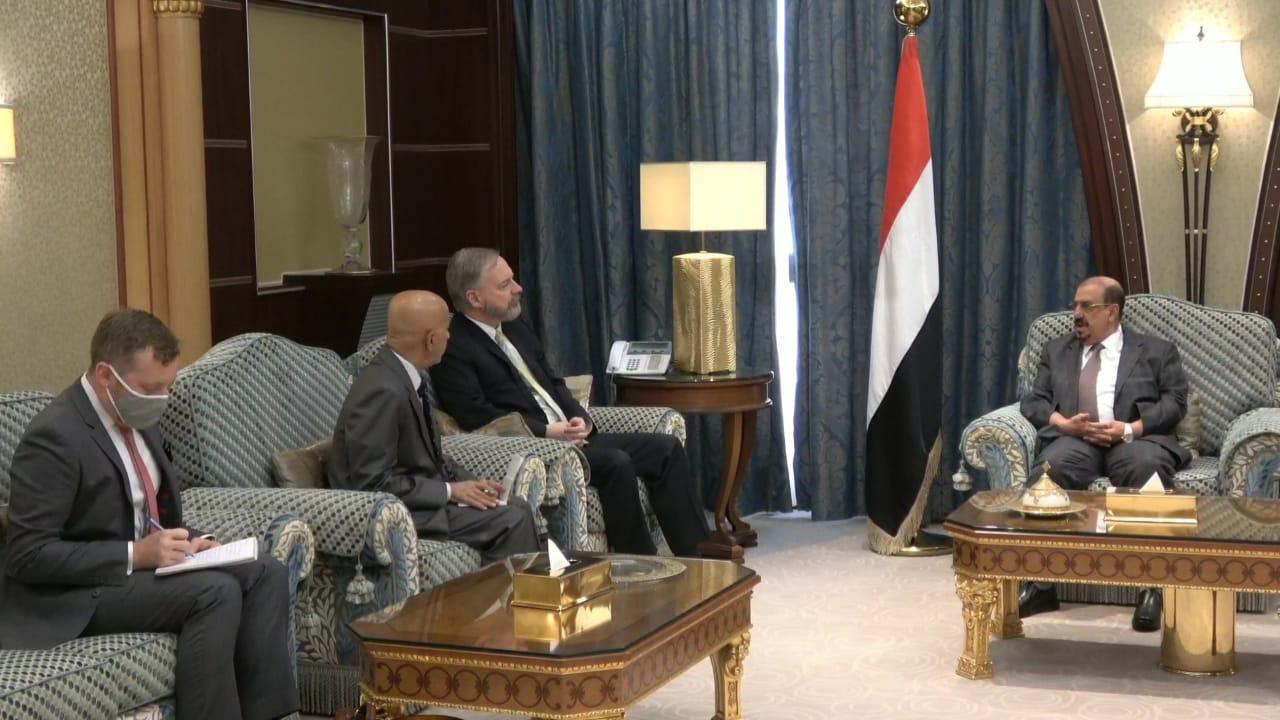 RIYADH - SABA
Parliament Speaker Sultan al-Barakani discussed Thursday with US Ambassador to Yemen Christopher Hansel efforts for finalizing implementation of Riyadh Agreement in its military and security supplementary and restoring all institutions in Aden.

Al-Barakani informed US diplomat government's welcome to peace initiative and the ceasefire initiated by the UN envoy, pointing out to viewpoints made by him to the two parties.

The meeting touched upon Houthi militia's recent military escalation, which reflects their stubbornness and intention for continuing bloodshed to implement Iranian agenda in the region.

" Houthis are still away of commitment to resolutions and references and try through peace, blood and violence to impose real situation meets the agenda they implement," he said.

For his part, the US diplomat confirmed his country's firm position regarding Riyadh Agreement and its demand from the two parties to deal with Saudi suggestions and initiatives, as well as cooperation with Saudis to implement the agreement.
He pointed out that the UN envoy exerts great efforts for reaching to agreed-upon and acceptable formula to all parties for ending war and implementing peace.

He confirmed his country's support to legitimacy in the framework of references and resolutions led by GCC Initiatives, outcomes of the National Dialogue Conference and UN Resolution 2216.

Earlier, Parliament Speaker al-Barakani discussed with UK Ambassador to Yemen Michal Aron through telephone call the rest steps for implementing Riyadh Agreement, especially military and security annex.

They also discussed process of formation of the new government, Houthi recent attacks on Marib and bloodshed of Yemeni people by the militia in different provinces.

The two parties confirmed implementing the agreement in accordance with the agreed upon process and mechanism of speeding up its implementation, heading to build the state and improving Yemeni people living conditions.






---

Vice President confirms promoting relations with brothers, friends

FM discusses with Dutch ambassador latest developments in Yemen

PM, Dutch Ambassador discuss developments in Yemen

Marib Dep. governor calls for greater interventions by UNHCR in the governorate

Saudi Cabinet renews its rejection of Houthi militia's targeting of civilian objects in Saudi Arabia and the UAE

Houthi rebels kill woman, hurt her espouse in Taiz

Yemeni-Turkish cooperation discussed

Interior Minister meets with UK Ambassador to Yemen

'MASAM' pulls out 3640 Houthi-laid landmines in a week

FM confers with British Ambassador over developments in Yemen