[06/08/2020 08:16]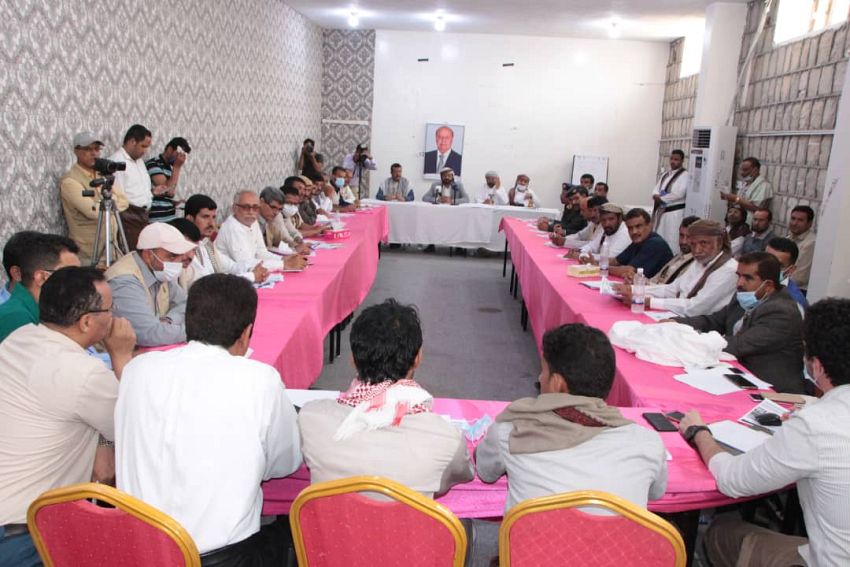 MARIB - SABA
Marib Emergency Committee headed by Governor Sultan al-Irada discussed Thursday with humanitarian activity partners the first report on damages caused by heavy rains and floods of Marib Dam's lake and swift humanitarian needs for hosting communities and displaced people across Marib.

The meeting discussed also quick interventions made by Marib local authority and help could be provided by partners of humanitarian work for filling the gap of affected people's needs.

According to the report discussed by the committee, 19 people, 17 of them children, had dead and 16885 families have been affected.

The report pointed out that 6 km of asphalted road and 8 km of paved road have been swept, sinking more than 43 public and private wells around the dam, 3 electric transferors and 50 electric towers were damaged in Sirwah district alone and the sanitation station and Arrowdah Water Network have been damaged.

The report also mentioned that the roads linking Arrahaba District's villages have been damaged, the majority of farms in Allop Valley and the wells in the district were swept.

The report pointed out to quick interventions made by Marib local authority in Sirwah District, which includes the greatest number of affected people from influx of floods from Marib, Baidha', Dhamar and Sana'a in addition to flooding of Marib's lake.

According to the report, the local authority have transported the displaced people from camps of Assawabain and Thina to secured areas, provided two water trucks for carrying water to displaced people in the two camps, opened a road to Rak and Miraitikh camps, opened road to Minsakh Arrawadha camps and provided aid to 485 families in the camps of the dam.

The report made it clear that the affected people quickly need 3666 shelters, 17460 shelter aid and similar quantity of water and sanitation needs, in addition to 15324 food parcels.




---

President al-Alimi to Grundberg: It is important to open Taiz routes before approaching other files

PM: Talks with WB, IFC came out with significant understandings

Health minister launches third campaign of anti-polio vaccination

Al-Hadhrami hands over credentials to US President

Session of talks in Aden between the government and the WB leadership

Major General Al-Zabeedi receives high-level WB delegation

Local Administration Minister meets WFP Director

WB High ranking delegation arrives Aden

Council of Ministers calls on UN, IC to pressure Houthi militia to fulfill its obligations under truce agreement

Houthi militia commits 67 truce violations on Saturday