[18/06/2020 05:59]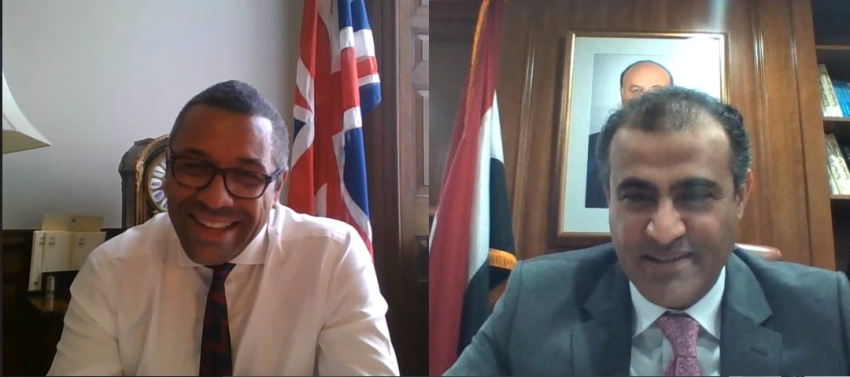 RIYADH-SABA
Foreign Minister Mohammed al-Hadrami and British Minister of State for Middle and North Africa James Cleverly held virtual discussions on Thursday focused on the UN-led peace efforts, looming risk of Safer oil tanker and the subsequent repercussions of the insurgency of the so-called Southern Transitional Council (STC).

Al-Hadrami stated that the International Security Council should pay greater attention to the deterioration of Safer oil tanker and Houthi militia should not be allowed to use the tanker as a barraging political card disregarding the looming environmental disaster.

He also raised the issue of the so called" Internal bylaw" of the one-fifth income tax, the Houthi militia has imposed in the militia-controlled regions.

"This is a solid evidence that the militia has embarked on establishing their own abhorrent racist sectarian attitudes", said al-Hadrami.

Al-Hadrami added that Houthi militia has been attempting to bring back the imamate racial class based society in Yemen that the Yemeni people eliminated in the 26 of September Revolution in 1962." These racist practices need to be widely condemned by the International Community (IC) because they are in violation of all international conventions and principles against all forms of racial discrimination", al-Hadrami said.

The Foreign Minister stated that it is very important to put the Riyadh Agreement into effects, to this end it is vitally important for the STC to renounce the declaration of the so-called " Self-administration of the South".

The British Minister affirmed his country's support to the UN special envoy's efforts to bring about peace. He also voiced support for the implementation of the Riyadh Agreement.


---

Parliament Speaker inspects expanding constructions in Makah Port

President al-Alimi arrives in Riyadh to contribute to Arab-Chinese Summit

Yemen participates in 15th Bali Democracy Forum

Al-Eryani: Iran's regime continues supply Houthi militia with weapons

Mahra Governor confirms significance of qualifying maritime navigation cadre

President al-Alimi flies to Riyadh to participate in Arab-Chinese Summit

Minister of Industry meets with EU Ambassadors

Basohaib discusses with Pragma capacity building program for planning ministry's personnel

Japan offers package of humanitarian aids worth $19 million

President of Leadership Council receives final report of the Security and Military Committee