[18/03/2020 02:30]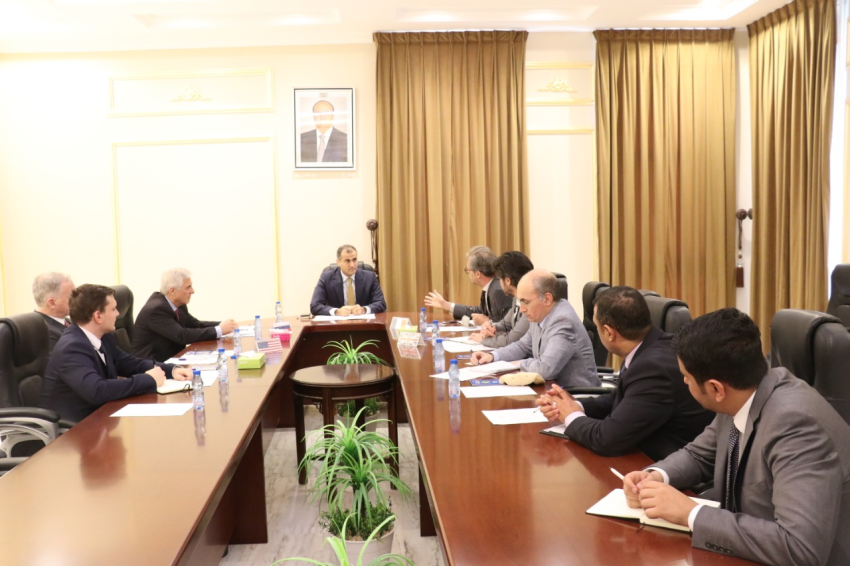 RIYADH- SABA
Foreign Minister Mohammed Al-Hadrami held meeting on Wednseday with the Ambassadors of Russian Federation, Republic of France, United States of America and United Kingdom of Britain to the Republic of Yemen.

The session aimed to discuss the precautionary measures taken by the government to deal with Coronavirus, the implications of Houthi militia's violations of Hodeidah truce and military escations as well as South Transitional Council's (STC) escalation.

Al-Hadrami briefed the Ambassadors on the precautionary measures and practical steps taken by the government to prevent the spread of coronavirus in Yemen.

Concerning to the government's decision to suspend the governmental team involvement in the Redeployment Coordination Committee (RCC) in Hodeidah the Foreign Minister stated that it is in response to the militia's rejection to implement the Hodieidah agreement, creating obstructions to the UN's mission and assaulting the member of the government's team Colonel Mohammed Assoleihi.

Al-Hadrami cited the government's conditions to resume engagement in the RCC action. He stated that securing the Monitoring Posts, removing landmines, deploy the UN's monitors in every Monitoring Posts, relocate the headquarters of UN's mission in an impartial site, resmuing the UN's patrols' operations which have been ceased since last October, these are prerequiste for the governmental team to reengage in the RCC.

Al-Hadrami also briefed the Ambassadors on the serious implications of Houthi militia's recent military escalations in Aljawf and Marib.

The Foreign Minister touched upon the recent escalation by the STC; stressing the importance of putting Riyadh Agreement into effect as soon as possible.

The Ambassadors affirmed their countries' interest in descalating the conflict in Yemen and resuming the UN-led peace process.

They also stressed the importance of implementing Riyadh Agreement, reiterating support for the UN special envoy's efforts to maintain the truce in Hodeidah, other parts of Yemen and reach political solution to the Yemeni crisis.



---

Defense Minister discusses with Saudi commander support to Yemeni army

Prime Minister of Djibouti receives General Tareq Saleh

Prime Minister discusses with Head of COCA combating corruption

High Council of Energy reviews recent resolutions enforcement

Yemen's Arab League rep. participates in International Day of Solidarity with Palestinian People

Yemen renews its condemnation of Zionist entity's aggressions in occupied Palestinian territories

Yemen participates in meetings of International Organization for Migration in Geneva

Industry Minister, Saudi counterpart discuss enhancing bilateral trade cooperation

General Tareq discusses with Djiboutian President maritime cooperation

Yemen participates in Regional Maritime Law Enforcement Forum for Gulf of Aden and Red Sea