[19/11/2019 11:48]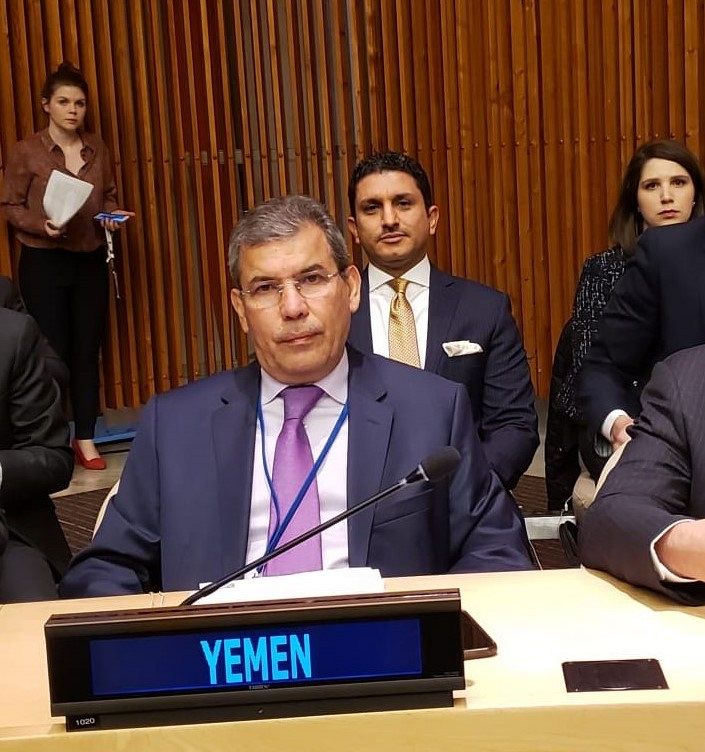 NEW YORK - SABA

Yemen participated today in session 1 of the Conference on Establishing A Zone Free of Nuclear Weapons and Other Weapons of Mass Destruction in the Middle East held at the UN headquarters in New York with a delegation headed by Yemen's representative to the UN Abdullah Al-Saadi.

The five-day conference, opened by UN Secretary-General Antonio Guterres, will discuss a range of issues related to nuclear, chemical and biological disarmament.

In his speech, Ambassador Al-Saadi stressed the importance of holding the conference, which is an important step towards establishing a zone free of nuclear weapons and weapons of mass destruction in the Middle East as one of the most important pillars of sustainable peace in the Middle East.

He pointed out that the accession of the Republic of Yemen to the Nuclear Non-Proliferation Treaty and all treaties banning weapons of mass destruction is an affirmation of Yemen's commitment to the principles and objectives of disarmament, non-proliferation and the belief that the possession and development of nuclear weapons constitutes a threat to regional and international peace and security.

He reiterated Yemen's support for all initiatives aimed at curbing the spread of nuclear weapons and for establishing zones free of weapons of mass destruction, especially in the Middle East, which is experiencing instability.

As Saadi stressed, however, the inherent and inalienable right of all states to benefit from nuclear technology for peaceful purposes as provided for in the Treaty on the Non-Proliferation of Nuclear Weapons, and that this right is not subject to any political restrictions.


---

Socotra Governor discusses interventions of ERLP

Yemeni, Uzbek talks on helping Uzbekistan join WTO held in Aden

Educational, water projects for IDPs established in Marib

Justice Minister discusses with UNICEF judiciary cooperation

Report: Houthi militias blamed for 7553 violations against civilians in Aljwaf governorate in 2022

Al-Eradah confers with Swedish Envoy peace efforts, Houthis' escalation

Leadership Council Chairman stresses private sector's leading role in development

Secretary General meets Yemen's permanent representative to OIC

Al-Zaori discusses with NDI joint cooperation issues

Prime Minister reiterates commitment of the government to peace approach