[18/07/2019 08:15]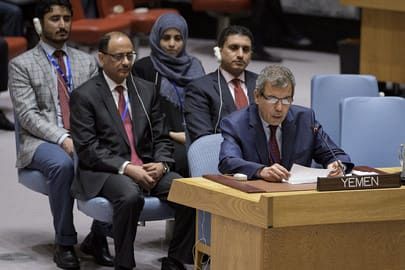 NY-SABA
The Yemeni government has stressed the imperative of redeploying troops with Houthis in Hodeidah in accordance with an agreed exposition for the operation.

In an address to the UN Security Council, Yemen's permanent representative to the UN Abdullah al-Saadi highlighted the importance of completing the redeployment phases one by one and ensuring the tripartite observation of the process.

He affirmed the necessity of implementing the second phase of the redeployment after identifying the nature of the local authority and security forces and the measures of levying revenues in the city.

Al-Saadi pointed that the government won't accept any unilateral ostensible withdrawalsby the militia which explicitly violates the Stockholm Agreement signed by the government and the rebels last December.

He highlighted the importance of removing Houthi blocks in the crossing points to allow for an easy movement of UN staff inside Hodeidah city.

He noted the importance of correcting the course of redeployment which happened in the past period, demilitarizing, removing landmines, and burying trenches and tunnels in the city.

He said that the government showed flexibility and offered a lot of concessions to achieve peace and end the coup whereas the Houthi militia has been escalating the war and stepping up attacks against cities and public facilities.

He referred to the Houthi use of drones and ballistic missiles towards government-held territories in Yemen and towards Saudi Arabia. He also cited the Houthi attacks against international shipping. He pointed out that the Iranian regime is supporting the Houthis with smuggled arms to use them in terror attacks.


---

Houthi militia commits 67 truce violations on Saturday

Member of Presidential Council, Tariq Saleh meets leaders of Hays Axis brigades

Kuwaiti medical convoys to children launched in Aden

Head of Arab Parliament warns of Safir Tanker's salvation delay

PM congratulates his Somalis counterpart on his appointment

Deputy Chairman of PLC launches High Military Committee's actions

Houthi militias blamed for 115 breaches of the UN-brokered truce within 2 days

Interior Minister says Houthi militia is synonymous with drugs

VP orders quick investigation into assassination of Dr. Al-Baqama

Al-Zubaidi directs PM to quickly complete matrix of urgent projects