[06/04/2019 10:27]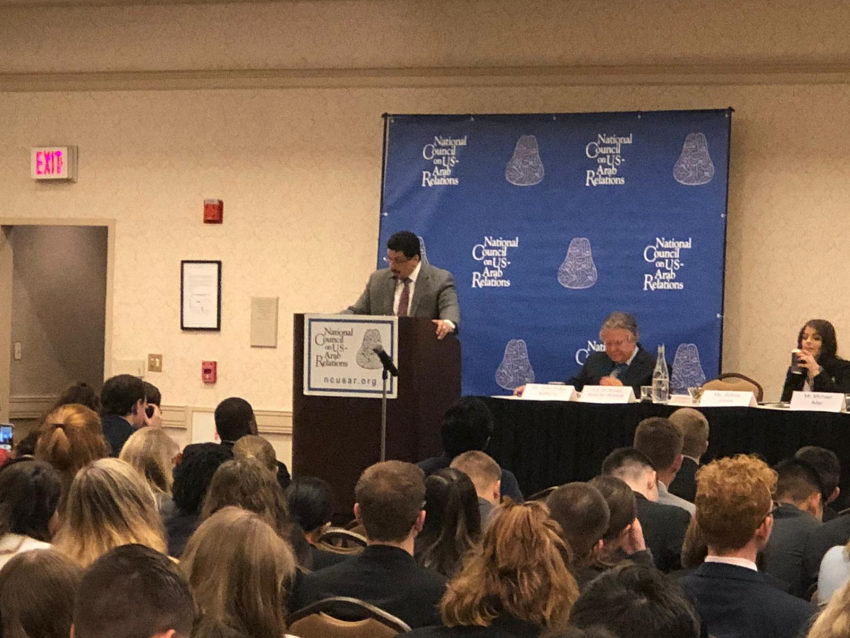 WASHINGTON-SABA
Yemen's Ambassador to Washington Ahmad Awadh bin Mubarak has said any militia carries weapon will not be accepted in the future political scene in Yemen and anyone wants to be part, should be transferred into a political party for drawing better future to Yemen.

In the annual meeting for US universities ( Arab League sample) organized by the National Council for Arab –American relation, which included diplomats, academics and students of political science, he talked about the Arab League as political entity for Arab nation and a significant forum includes all concerns of the nation.

He added, it has important role in dealing with files concerning international community as a whole like international trade, globalization and fighting terrorism and through it Arab countries presented joint viewpoint to the international community as a political body through which Arab countries move.

Concerning Yemen, he said Yemen is one of the founders of the Arab League but today is going through domestic war imposed by an Arab neighboring country does not respect this relation and does not consider religious and kinship relations and used a group of Yemeni people who have political aspirations on the bases of sectarianism to enter Yemen and goes beyond to Arab countries and blackmailing western countries and international community.

He made it clear that the dream, which can be implemented in Yemen, is the federal state adopted by President Hadi and supported by Yemeni people with their different political and social trends.




---

€1million French-funded project to support fishermen in Hadramout

President al-Alim leaves New York

President al-Alimi contributes to Seminar about the Yemeni Crisis

President al-Alimin briefs Yemeni community in New York on developments in the homeland

President al-Alimi discusses with UN Secretary General peace efforts in Yemen

Yemen, China discuss coordinating positions towards issues of common concern

President al-Alimi receives French foreign minister

President al-Alimi praises role of Arab League of supporting Yemen's issue

Yemen welcomes adoption of Doha Program to Underdeveloped Countries 2022-2031

Chairman of Presidential Leadership Council calls for drastic shift in handling the Yemeni issue, standing up to Iranian interferences in the region