[13/03/2019 03:10]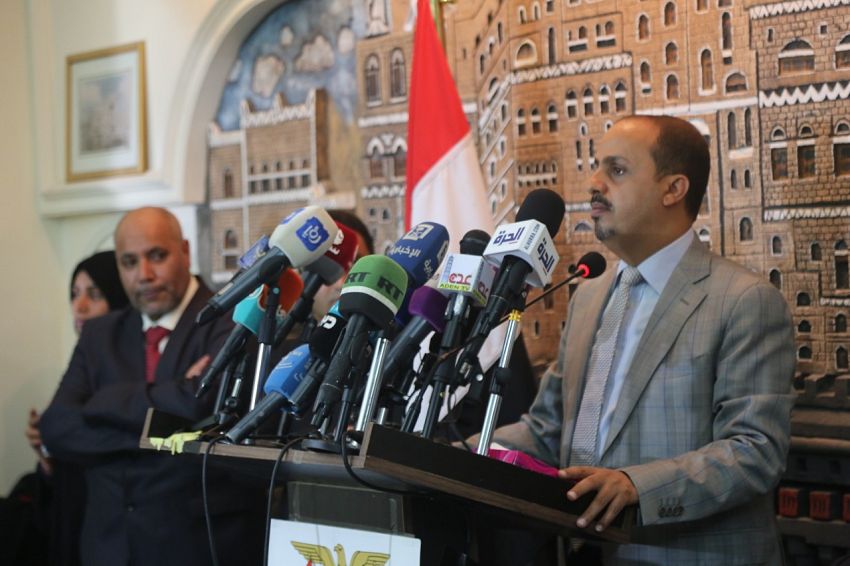 AMMAN-SABA
Minister of Information Muamer al-Iryani stated that Yemeni government has made every possible concessions to demonstrate good faith in seeking for peace.

Speaking at press conference held Wednesday in Jordanian capital Amman, he said" Most recent concessions the Yemeni government made in Stockholm where an agreement reached stipulated withdrawal from Hodeidah, releasing abductees and detainees, but Houthi militia has proved no intention to come to peace, rejecting to implement agreements sponsored by International Community (IC)".

The Minister cited stories of kidnapping a number journalists and activists who were abducted, arbitrarily arrested and tortured by Houthi militiamen.

He also pointed out to the ongoing aggressive military operation the rebellious militia has been carrying out against the villagers in the districts of Hajur ." Houthi militia's current barbaric military campaign on the populations of Hajur districts amount to genocide, using heavy weapons including ballistic missiles", said al-Iryani.

For his part, Yemen's Ambassador to Jordan Ali al-Amrani described Houthi militia as" a radical militant group, bloodthirsty and warmonger , has nothing to do with politics, while Yemeni people and legitimate government have never sought to warfare , but they have to fight a war imposed by this criminal militia".

The Chairwoman of the Association of Mothers of Abductees Amat Assalam al-Haj reported that there are some 2000 of the abductees, enforced disappearances out of them 120 were killed under torture, 230 are enforced disappeared, 108 their health conditions are seriously decorated and 114 women were kidnapped and detained.




---

President al-Alimi confirms significance of UK support to Yemen's economy

President al-Alimi receives Dutch delegation

Minister al-Sharjabi discusses with Dutch officials Yemen's water, environment

PM receives British Ambassador in Aden

Al-Alimi receives congrats from US president and other world leaders on National Day

Mujalli: Houthi militia committed 4276 breaches against the UN-brokered truce

Dep. Oil Minister, US company discuss investment opportunities in oil exploration and mining

Al-Alimi receives congrats from his Egyptian counterpart on the 32nd National Day anniversary

President receives congrats from Custodian of the Two Holy Mosques on National Day

Yemeni-American in oil and minerals discussed