[11/12/2018 01:03]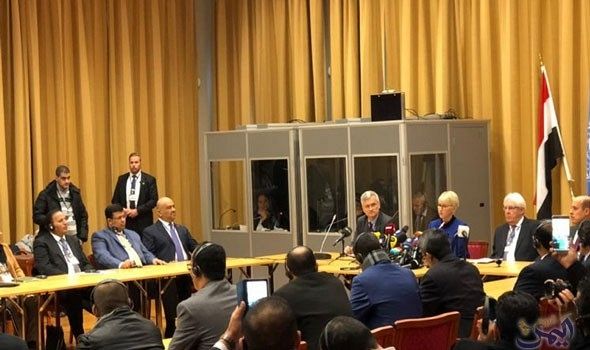 STOCKHOLM-SABA
The governmental delegates to the ongoing Stockholm peace talks with Houthis has presented a list of 8200 persons it accuses the rebel militia of holding and demandsthem to be set free under a special deal for prisoner exchange.

Saba learnt that the list, presented on Tuesday, is primary and is open to updates as they come. "This is a list of all those reported missing … including members of the Bahai sect and relatives of the slain ex-President Ali Saleh," one source said.

The delegates said the mere acceptance to swap prisoners with Houthis is a concession offered by the government, given that many of those the government seeks to release are civilian activistsincluding journalists the rebel militia had earlier abducted with a view to using them in prisoner swap like these.

However, out of willingness to spare these prisoners more physical and psychological tortures in the Houthi notorious jails, the government will accept to get them freed in exchange for captive Houthifighters who,, upon release, may even go to the warfront again.

The delegates stipulate for the swap deal a guarantee that the militia will not round up civilians again to use them for future swap deals with the government.

The sources said the prisoners in Houthi jails include 7322 civilian blue collar workers, 5118 politicians, 1690 supporters of the 2011 pro-democracy protests, 806 teachers, 685 students, 357tribesmen, 359 minors, 279 journalists, 183 businessmen, 200 mosque preachers, 88 women and 63 doctors.Human rights organizations say out of 1200 prisoners subjected to torture in the militia's jails, 132 have already died.




---

Al-Eradah meets Mauritanian Justice Minister

Interior Minister discusses with UN humanitarian coordinator promoting cooperation

Ambassador al-Eradah discusses with Mauritanian oil minister Safir's developments

Presidential Leadership Council chairman congratulates US President on Independence Day

Chairman of Presidential Council sends congratulatory message to the President of Belarus

Al-Mahrami: We are ready to stop war if we find real partner in Sana'a

Mujalli: He who recruits children, brainwashes them with terrorism has no will for peace

FM discusses with Jordanian counterpart preparations for joint committee's meeting

Industry DM. calls businessmen to invest in home

Presidential Council member Tariq Saleh discusses security developments in Taiz axis