[21/07/2018 04:24]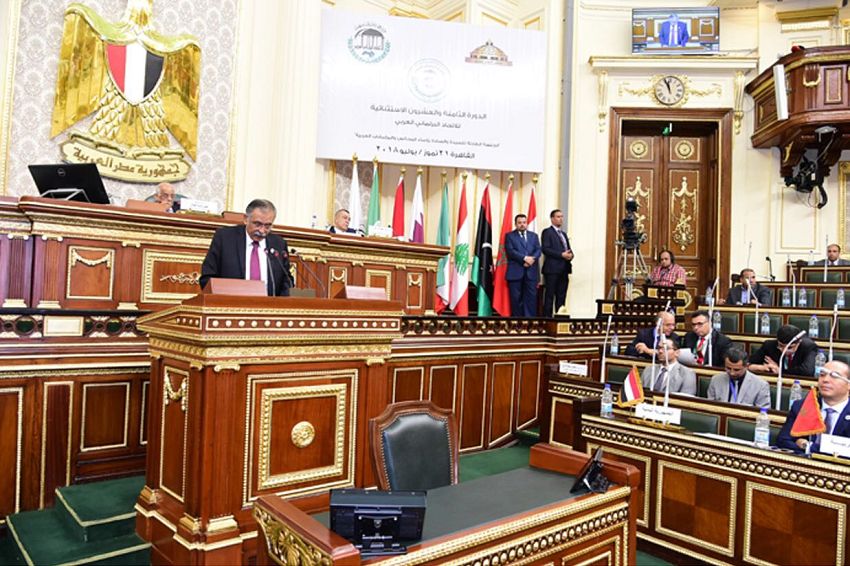 CAIRO -SABA
Yemen participated in the 28th extraordinary session of the Arab Inter-Parliamentary Union (AIPU) in the Egyptian capita, Cairo, on Saturday. The country's delegation was headed by Deputy Speaker of the House of Representatives Mohammad Ali Al-Shaddadi.

In a speech delivered at the conference, Al-Shaddadi pointed to the repercussions of the US decision to transfer the US embassy to holy Al-Quds, the historic capital of the Palestine. He said that the US move was a confirmation of the US bias which has been continuing in the form of material and political and international support to the Zionists so that they can continue to occupy the Palestinian lands and obliterate its people. He said that the US decision was a flagrant violation of historical facts and a breach of the resolutions of the UN General Assembly and Security Council.

He said that the barbaric massacres the Zionist entity has been carrying out against Palestinians who took out to the streets to peacefully protest against the US decision will not dissuade the Palestinian people from commitment to their homeland and continuing the struggle until they establish their Palestinian state with Al-Quds as its capital.

He called on the Arab, Islamic and international parliaments to take urgent action to save the Palestinian people and reject the US and on the United Nations and UN Security Council to fulfill their duties in protecting the Palestinian people and preserving their historic rights.

He said that "despite all the conditions that the Yemeni people are going through, the humanitarian disaster caused by the Houthi militia's coup, the Palestinian issue will remain the central issue of the Arabs and of the all the world's free people. He said that the occupation is doomed to end, and the independent Palestinian state will eventually be set up.



---

Chairman of PLC receives Saudi Deputy Minister of Defense to discuss fast-track for development assistance

Marib government receives request from International Relief to open an office

Yemen warns of Houthi militia's excessive use of landmines

PM chairs meeting with GACAM to discuss airports improvement

Governor of CBY discusses with WB promoting institutional work

PM offers condolences to Jordanian counterpart over the victims of Aqaba port

Yemeni-Pakistani relations discussed

Local Administration Minister discusses with Hodeidah Governor the humanitarian situation

Amb. Bin Safa'a hands over a letter to Kuwaiti Crown Prince from President al-Alimi

President al-Alimi to Grundberg: It is important to open Taiz routes before approaching other files