[25/06/2018 02:33]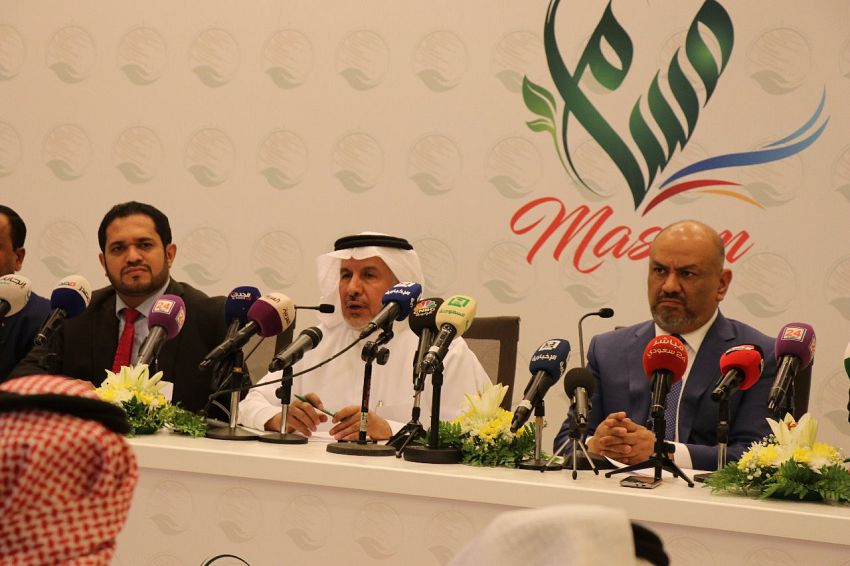 RIYADH-SABA
Minister of Foreign Affairs Khaled al-Yemani participated on Monday in the ceremony of launching the Saudi Project of Demining in Yemen organized and carried out by King Salman Center for Relief and Humanitarian Activities (KSrelief).

Lasting for a year, and financed by Saudi Government, the project targets removing landmines planted by Houthi militia in different provinces across Yemen.

"HouthiCoupists have caused a huge humanitarian catastrophe by the war they triggered and looting the resources of the state in their held-areas and seek from these deteriorating humanitarian situation to gain political ends and mobilizing the public opinion against the Arab Coalition and the legal government for deep-rooting the coup (Houthi coup) and imposing the real situation," said Minister al-Yemani.

Al-Yeman, who reviewed Houthi practices of seizing taxes revenues, depriving government employeesof their salaries and creating parallel economic corporations for looting the state capabilities, confirmed that planting mines is one of Houthi means they adopt for beating the Yemeni people and doubling their suffering.

He reminded that these mine violations are criminated by the International Humanitarian law and related accords, which include Ottawa Accord for banning using and storing mines and transporting anti- individual mines. Even though, he added, the rebel militia invented new ways for using anti-vehicle mines and transferring them into anti- person mines for making greater number of victims.

The militia invented anti-mine explosive mines with different fake shapes IED and ignited by radio wives, according to the UNSC's experts some of them have been brought from Iran, he said.

Al-Yemani made it clear that initial statistics reveal that Houthi militia have planted around one million landmines in different parts of Yemen and the National Program for Demining has removed- since the beginning of 2018- more than 282319 mines and that reports on mine victims show that there aremore than 1194 people killed and 2287 injured, most of them have been civilians including children and women.

He said that the announcement on the project by KSrelief today for removing mines in Yemen is a humanitarian active plan for ridding Yemen off mine danger, the danger which caused by coupists.

The project is a life project for facing death and is added to the charitable record of KSrelief to Yemeni people since the establishment of the center in 2015, said al-Yemani.

He called on the International Community and international organizations, mainly the UN organizations to help the government of Yemen to get rid of mines and adopting similar projects.

The General Sponsor of King Salman Center for Relief and Humanitarian Activities Dr. Abdullah al-Rabi'a confirmed that supporting Yemeni people is in the top list of the Kingdom's priorities, pointing out that the center has provided 262 projects- with the total cost of USD 600 million-in different humanitarian fields to Yemeni people.

" We present today an important humanitarian task via KSrelief represented in the Saudi Project for Demining, which is being carried out by Saudi cadre and international experts for removing the different forms of mines planted randomly in Yemeni territories, mainly provinces of Mareb, Aden, Sana'a an Taiz," said al-Rabi'a.

He added that the project aims at helping Yemeni people overcome humanitarian suffering over mines.






---

Saudi Arabia, Qatar confirm full support to solving Yemen's crisis

Chief of Staff discusses with Egyptian Counterpart military cooperation

Electricity Minister, Korean Ambassador discuss cooperation in Energy

GCC confirms its full support for Presidential Leadership Council to reach political settlement

Water Minister participates in the first high-profile meeting on the fair transition

Yemeni embassy in Riyadh first station abroad to see launching of smart ID cards

Yemen condemns Israeli occupation forces' resumed aggression on Gaza

UN Security Council condemns acts of piracy and attacks on ships by the Houthi militias

President al-Alimi warns of delay of facing challenges of climate changes

President al-Alimi holds meetings with participating presidents in COP 28