[06/06/2018 02:36]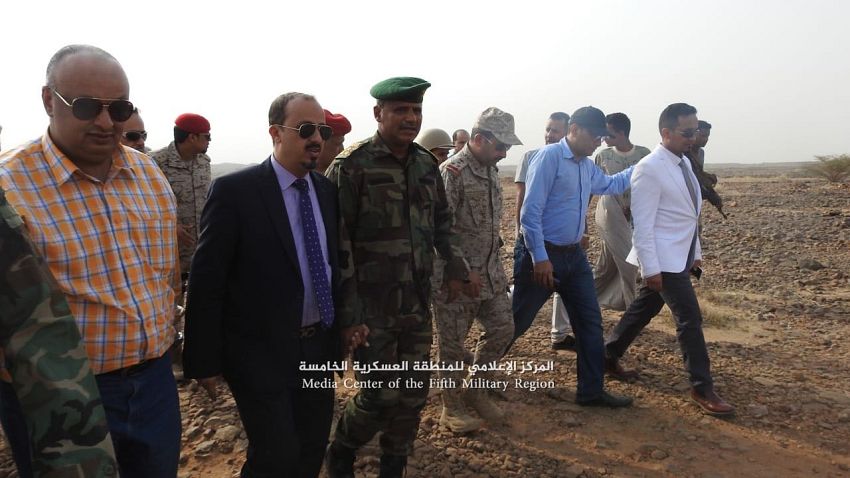 HAJJAH-SABA
Minister of Information Muammar al-Eryani paid a visited to the national warriors at the frontlines of Meedi and Haradh cities in the northern Yemen province of Hajjah on Tuesday.

Al-Eryani conveyed the greetings of His Excellency President Abd-Rabbu Mansour Hadi, the Supreme Commander of the Armed Forces and those of his deputy Lt. Gen. Ali Mohsen Saleh and Prime Minister Ahmed bin-Daghr to the warriors on the duty line.

"You have written wonderful tales of bravery and sacrifice of your own lives for the highest goals; restoration of the dignity and Arab identity of the nation, which the new (Houthi) imams tried to hijack," he told the soldiers.

Meeting ordinary people in the Corniche of Meedi, he assured them that the government will assume its duty of reconstructing the war-torn city and with great support from the brotherly Kingdom of Saudi Arabia in the coming period.

He praising the sacrifices of the Arab Coalition countries including Saudi Arabia, the United Arab Emirates, and Sudan in support of the government and contribution to the liberation of Meedi from Houthi rebels' hold.

In Haradh warfront, al-Eryani closely inspected on the fresh gains of the army and conveyed to them the greetings of President Hadi.

"We will celebrate together in the presidential palace in Sana'a soon, thanks to your great heroic sacrifices as an army and popular resistence force backed by the Saudi-led Arab Coalition," he said. "Victory is appearing close on all fronts."





---

Reconciliation Authority discusses latest political, economic developments

Marib: Local government discusses impact of floods on IDPs

President and members of the Supreme Judicial Council

Leadership Council holds first meeting with the judiciary

Al-Eryani demands international position towards Houthi militia's crimes in Taiz

Yemen condemns Israeli aggression on Gaza Strip

Two civilians injured by Houthi militia snipper's bullets eastern Taiz

UNOPS' team gets acquainted with road projects in Aden

Finance ministry, Pragma Corporation discuss implementing unified banking system

Presidential Decree on restructuring Judiciary Council issued