[23/05/2018 07:47]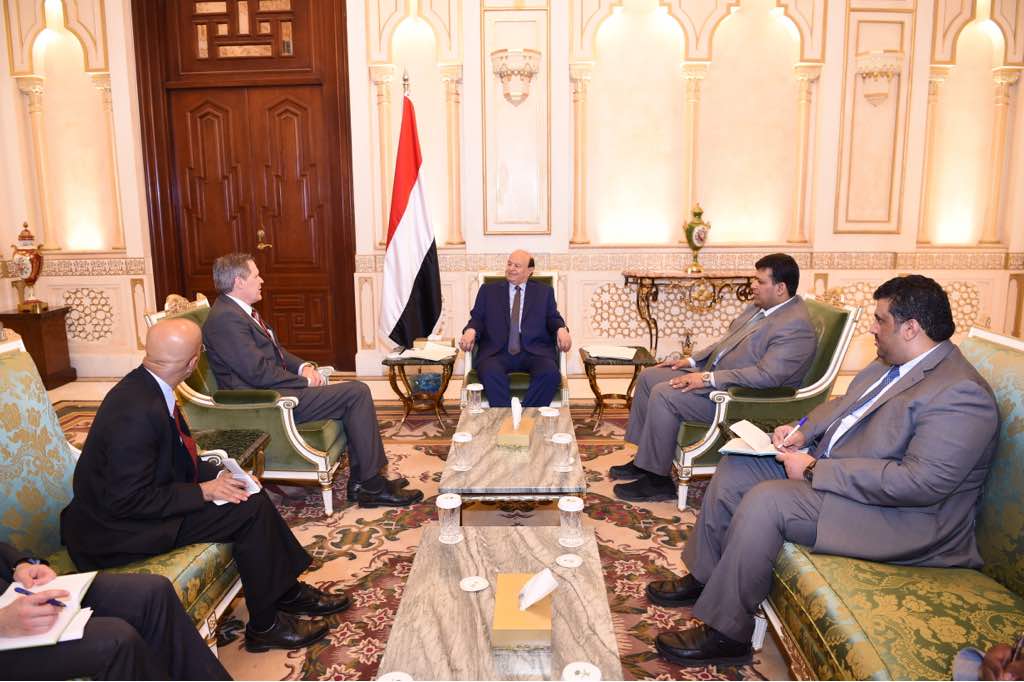 RIYADH-SABA

President Abd-Rabbu Mansour Hadi received Wednesday afternoon the American ambassador to Yemen Mathew Tuller.

The latest political and military developments in Yemen were discussed during the meeting.

The President appreciated the US stances in supporting the Yemeni constructional leadership and legitimacy.

He also lauded the American constructive coordination with the legitimate government about countering terrorism and the Iranian regime's interference in the region, mainly its support for the Houthi militia that destroyed Yemen and fires its missiles at the Kingdom of Saudi Arabia.

President Hadi has reiterated his interest in a sustainable peace based on the GCC's Initiative, outcomes of the National Dialogue and International Security Council's resolutions in relevant.

The US diplomat stressed the importance of Yemeni-American coordination and cooperation to serve the mutual interests of the two countries as well as Yemen's peace, security and stability.






---

President Hadi praises significant advancements gained by armed forces in different flashpoints

President Hadi learns from Marib's Governor on the overall situation in the governorate

President Hadi: Wresting Bayhan districts from Houthi militiamen a step toward retaking all regions

Hadhramout Governor informs president on latest developments

President is briefed on the victories of the army in Osailan, Shabwa

President emphasizes activating COCA, revising performance of CBY

President receives Russian Ambassador on ending duty in Yemen

Shabwa new governor sworn in front of president Hadi

Mohammed bin Adyeu appointed advisor of the President of the Republic

President Hadi receives Saudi Vice Defense Minister