[15/04/2018 06:13]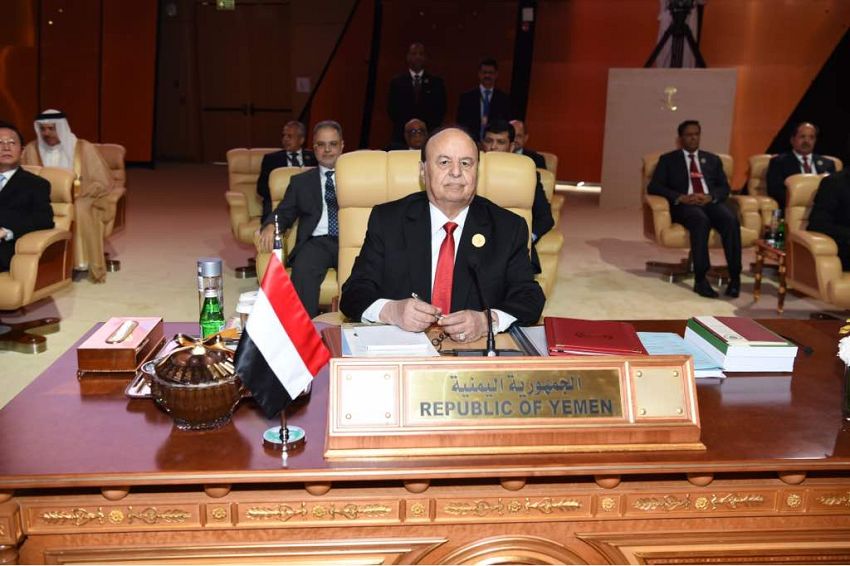 Al-DHAHRAN-SABA
President Abd-Rabbu Mansour Hadisaid that Houthis started their coup d'état in the midst of the country's National Dialogue Conference and thus sabotaged Yemen's transformationthat nearing accomplishment in 2014.

Addressing the 29th Arab League summit which kicked off in the Saudi city of Dhahran on Sunday, Hadi narrated that the "the National Dialogue Conference (NDC) went on (in 2013 through 2014) under the sponsorship from the brotherly and friendly nations.

The drivers of conflicts for the previous 60 years were put on the table. Solutions were hammered for all the issues and Yemenis unanimously agreed upon the NDC outcomes.

Once the stakeholders embarked on discussing the draft constitution of the federal Yemen, the armed (Houthi) militia rebelled against everytying, seized power by force and ignited the war."

Hadi said the radical rebels set off the conflict spurred on by Iran which had prepared this militia to implement its agendain the whole Arab world."

He said that the rebels insurgency which has been going on diehard for years shows that the rebels are indifferent to peaceful political settlement.
"This maximalist attitude has been contributing to the humanitarian tragedy which has reached unbearable levels."

Hadi said that Houthis are not the only party responsible for these consequences but their supporters share the blame with them.

Hadi said that the Decisive Storm military operation which King Salman bin Abdulaziz Al Saud launched in 2015 was an expression of an Arab will to counter Iran's expansionist ambitions and destructive sectarian agenda.

He called on the international community to pressure Iran to stop meddling in the Yemeni affairs and stop smuggling missiles which Houthis use to attack Saudi territories in violation of the international resolutions.


---

President al-Alimi convenes high-profile meeting includes Speakers of Parliament, Shura Council

Family killed and wounded as they drove over Houthi landmine in north Yemen

National Investigation Committee holds discussions with a team of Yemen Sanctions Panel

Eryani condemns Houthi storming of annual meeting of Baha'i sect and arrest of 17 participants

Dr. Abdullah al-Alimi praises American role in fighting terrorism, controlling weapons smuggling

Dr. Abdullah al-Alimi confers with British Ambassador over international efforts to revive political process

President al-Alimi praises UK's support for the Yemeni people

Health Ministry team participates in 76th session of the WHO's assembly

Al-Sharjabi approves $5 mln contribution to addressing the risks of the tanker "Safer"

Yemen participates in the Banking, Economic Arab-European Conference in Paris