[29/03/2018 04:48]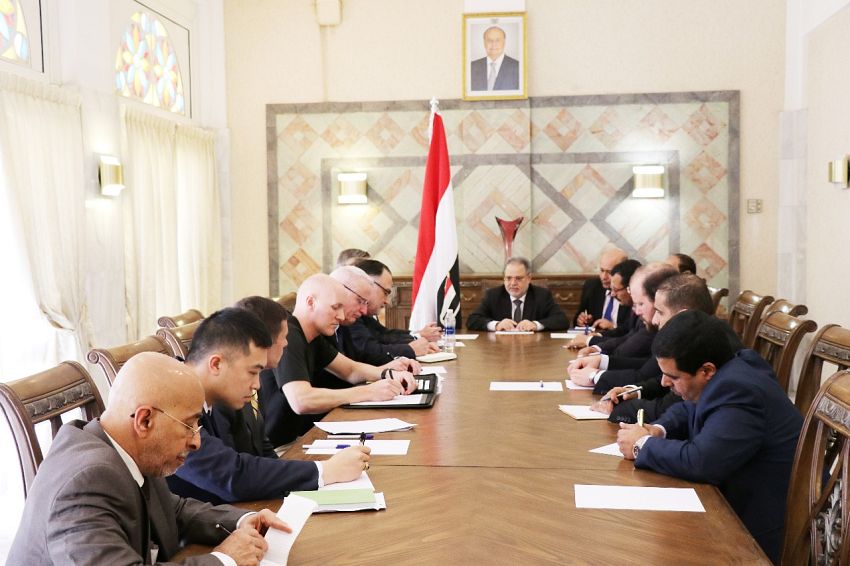 RIYADH-SABA
Deputy Premier, Foreign Minister Abdulmalik Al-Mekhlafi chaired Thursday a preliminary meeting included the committees in charge of energizing the System of Monitoring the seaports, airports and land inlets. The system is provided to our country by the friendly government of the US.

The meeting brought together high-rank Yemeni and American officials in charge, Maj. General Mohammed Arramli, Head of Authority of Passports, Nationality and Migration, Director of the Yemeni Interpol, senior officials from Foreign Ministry, Interior Ministry and General Authority of Passports, Nationality and Migration.

The US ambassador to our country Mathew Tuller and senior specialized officials in the US embassy were in attendance.

The Foreign Minister noted that this System was in operation in all Yemeni entries prior Houthi militia coup.

Al-Mekhlafi stated that the government is intending to re-operate this System of Monitoring over all seaports, airports and lands passageways in the government-held regions in order to help preventing weapons smuggling and illegal stuffs, as well as to monitor the movements of the wanted people for security reasons from and to Republic of Yemen. " This program is within the active cooperation and coordination between the two governments of our country and the US", said Al-Mekhlafi.

The Experts Team provided a presentation about the targeted areas. for his part, Maj. Arramli underlined the need to rehabilitate the passageways on the borders, mainly repairing the infrastructure which has been damaged.

The US ambassador highlighted the importance of this meeting which reflects the well understanding and coordination between the friendly governments. Mathew argued that such high-rank coordination will contribute to countering terrorism and extremism. It will also helps to remove the name of Republic of Yemen from the list of the counties whose nationals are banned from travel to the US.


---

Prime Minister initiates roundtable discussions between government and UN in Aden

Dep. Chief of Staff talks with European Ambassadors over Houthi militias' escalations

Minister Buhaybeh, UNFPA representative discuss interventions in health sector

Chairman of Presidential Council arrives in Dubai to participate in climate summit

Foreign Ministry condemns Dutch parliamentarian's denial of the rights of Palestinian people

Council of Ministers reviews economic, financial, monetary reforms

Yemen presidential council chairman confirms full support for Egypt's position toward Palestinian cause

Leadership Council chairman welcomes temporary truce in Palestinian territories

Yemen welcomes ceasefire agreement in Gaza Strip

Ambassador Al-Maytami participates in Belt and Road Initiative conference in Jinhua, China