[25/03/2018 12:28]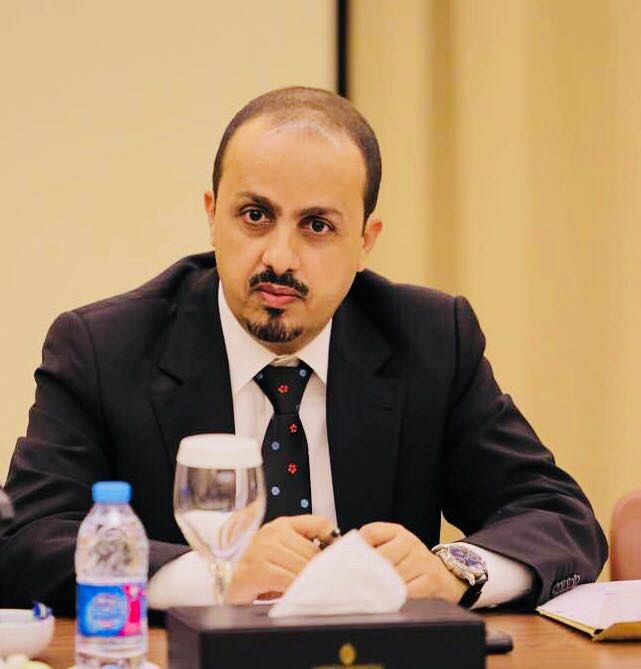 ADEN-SABA
Minister of Information Mo'amer Al-Iryani called on the special envoy of the UN Secretary General to Yemen Martin Griffith to get first-hand knowledge of the factual political and humanitarian situations in Yemen during his current visit to the capital Sana'a.

In statement to the Yemeni News Agency (Saba) Al-Iryani said:" Houthi putschist militia is nothing but an armed group took weapons on the State, carried out a coup against the elected President Abd-Rabbu Mansour Hadi, regardless it has attempted to mislead international public opinion through covering up its maneuvers by the State's institutions to portrays political and civil life as normal in Sana'a and other militia-held regions".

Al-Iryani went on saying:" Houth took on his partner, General People Congress (GPC) last December, killing and imprisoning the party's leaders and confiscating its property and the members' as well".

The Info. Minister stated that there isn't any political action by the political parties and forces in the Houhi-controlled areas. Moreover, there is no one single partisan or private-owned newspaper established ever since the coup d'état in light of an aggressive crackdown campaign against every anti-Houthi voices.

Al-Iryani urged Mr Griffith to pay an inspection visit the Houthi- jails and detention places to get familiar with the conditions of the statesmen and political parties leaders who have been detained for three years, besides dozens of journalists who have been locked up behind bars without specific charges or trail.

The Info. Minister demanded the UN's envoy to ask the Houthi about the corps of the former President Ali Saleh and dozens of the GPC's senior leaders whose fate has continued to be unknown.


---

Security Council's members renew support to UN Envoy for peace in Yemen

President al-Alimi congratulates on anniversary of establishing China

Erada and Bin Nahid lay foundation stone for completing Marib International Airport project

Arab Parliamentary Union condemns Houthi intransigence and insistence on rejecting dialogue

Cabinet discusses developments in internal and external situations

Sanctions Committee urges Houthis to stop spreading hate rehtoric, recruiting child fighters

Planning Minister launches 4th evaluation round of Global Partnership for Dev. Cooperation

PM chairs an expanded meeting of the Defense Ministry's leadership in Aden

General al-Eradah opens surgery center in Marib Military Hospital

President al-Alimi receives congratulation cable from King Salman, Crown Prince