[22/03/2018 02:15]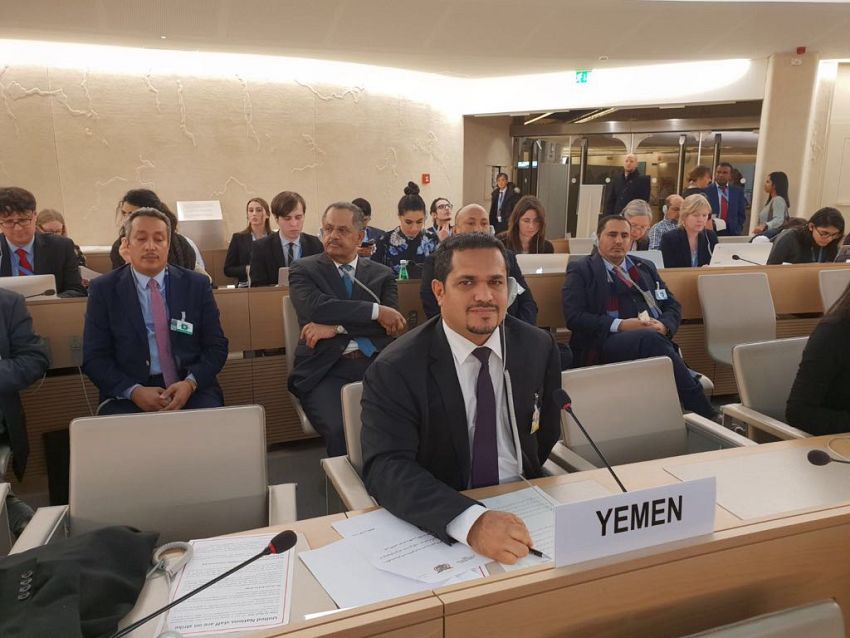 GENEVA-SABA
Minister of Human Rights Mohammed Askar has called upon the Office of the UN High Commissioner for Human Rights to assimilate his ministry's sent reports regarding the Houthis' violations against civilians since their coup d'état on 21 September 2014.

In a reply to the Deputy High Commissioner for Human Rights, Kate Gilmore's verbal comment on Yemen's humanitarian situation during the 37th session of the HRC 26 Feb-23 March 2018, Askar said the Houthis' violations have been increasing day by day especially since killing their erstwhile ally Ali Abdullah Saleh and his aid ArefAzooka in December 4.

He said the militia has since been seizing Saleh's body and cracking down on the GPC party members and storming the houses of all oppositionists and stifling oppositionist media.

He said that the capital Sana'a has been turned by the militia into a large prison where people are not allowed in or out without a security permit.
In addition, the militia has been banning press freedoms and blocking social networking sites.

He said the militia has stormed and looted money exchange businesses, brutally quelled protests and dissent and rounded up the masses, men and women, to prisons.

He cited the sentencing to death of HamedHaydarah a member of a minority sect in Sana'a as one of the latest violations against people of different beliefs.

He expressed hope that the OHCHR would support his ministry to operate independentlhy and transparently as it seeks to look for the truth and help in reaching accountability.
He stressed the importance of reflecting on the causes that brought Yemen to the current catastrophic situation and not just reflect on the situation now.

He hailed the Arab Coalition's humanitarian support to Yemen and called on the international community to press the rebel militia into respond positively to the new UN envoy's efforts for peace talks that will hopefully lead to Yemen's recovery and resumption of democratic transformation.


---

FM: Evacuating all Yemeni citizens in Port Sudan evacuated

Arab-Chinese Forum puts emphasize on the unity, sovereignty and territorial integrity of Yemen

MASAM removes 875 Houthis-laid landmines in a week

Leadership Council chair praises GCC for supporting Yemen and its just cause

Higher Education Minister reviews with ILO implementing apprenticeship program

President al-Alimi convenes high-profile meeting includes Speakers of Parliament, Shura Council

Family killed and wounded as they drove over Houthi landmine in north Yemen

National Investigation Committee holds discussions with a team of Yemen Sanctions Panel

Eryani condemns Houthi storming of annual meeting of Baha'i sect and arrest of 17 participants

Dr. Abdullah al-Alimi praises American role in fighting terrorism, controlling weapons smuggling