[28/02/2018 01:46]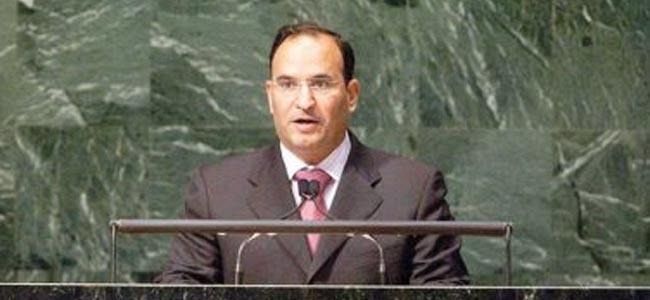 NEW YORK-SABA
The President of the Security Council for February Mansour al-Otaibi has said the ideal solution for ending the humanitarian situation in Yemen requires restoring security and stability in Yemen for protecting its sovereignty, independence and unity.

"This will not be end only via reaching a political solution in accordance with the three references," said al-Otaibi at the UN Security Council Session on Yemen late Tuesday. "We also renew confirmation on supporting the constitutional legitimacy in Yemen."

Regarding humanitarian situation, al-Otaibi said the issue requires from the International Community to provide more support for alleviating humanitarian crisis facing Yemeni people, noting that the State of Kuwait has pledged to provide more relief aid to Yemen worth more than US one million in Geneva Donor Conference held on April 2017.

He added the Saudi-led Arab Coalition has announced about on inclusive humanitarian plan for Yemen "this plan includes generous support from Saudi Arabia and the United Arab Emiratesworth two thirds of the total value of the UN Humanitarian Responsive Plan 2018."

He added that Yemen has been going through difficult stage in its history over Houthi rebellion on the government in 2014, which is considered not only a coup against the legal authority but also against the state and its institutions.

"Since that time, unfortunately, we have not seen a political solution ending the conflict in this Arab country, which its people faces deterioration of humanitarian and living conditions," he said.

He pointed out that the Yemeni crisis has witnessed recent security and political development frozen the political process over Houthi stubbornness and rejection of joining UN efforts for ending the crisis and even rejection of related Security Resolution.

He confirmed that the State of Kuwait believe that there will be no military solution to Yemen's conflict as this conflict will be solved only by dialogue and the political solution based on the agreed upon three references; the GCC Initiative, the outcomes of the National Dialogue Conference and the UN Resolution 2216.

He also confirmed that they will not accept any military group threatening a neighboring sovereign country by rockets and threatening the whole region and such threat by ballistic rockets on Saudi Arabia must be denounced.

The security of waterways is a key issue cannot be neglected and a message must be send that attacking ships or threatening of targeting them or laying sea mines in the Bab al-Mandab Strait and the Red Sea is rejected and must be denounced, he said.





---

Yemen, Arab Monetary Fund sign agreement worth one billion dollars

Defense Minister heads to UAE on an official visit

Parties to Ottawa Agreement on landmines agree to keep support to Yemen five year more

Yemen participates in OIC Standing Committee meeting in Istanbul 11/26/2022

Leadership Council member Brig. Tariq Saleh discusses conditions of Dhubab district

Chief of Staff discusses with Saudi Counterpart promoting military cooperation

Kuwaiti Najat Charity launches relief campaign to displaced people in Taiz

Finance minister emphasizes training customs senior agents

Justice Ministry participates in workshop on maritime security, cross-border crime

Presidential Leadership Council considers repercussions of Houthis' terrorist attacks