[17/02/2018 06:52]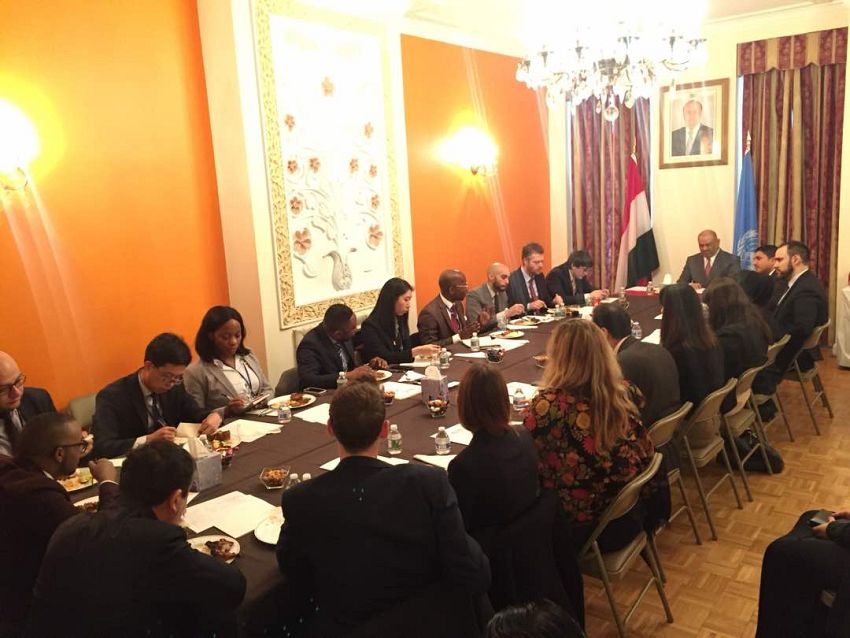 NEW YORK-SABA
Houthi militia has not stopped looting the state's capabilities and continues plundering of the financial resources, which according to estimations of investigators, have reached USD 7 billion during the past three years for financing their war and for personal richness, Yemen's Representative to the UN Khaled al-Yamani said.

In a meeting organized by Yemen's Permanent Mission in New York for experts from a number of member countries in the Security Council with participation of Saudi Arabia, the United Arab Emirates and UN officials for discussing latest developments in Yemen and possible solutions to the crisis, al-Yamani reviewed Yemeni Government's vision for peace in Yemen on the bases of the three basic references.

He pointed out to the three peace talks, especially agreed upon understandings in the State of Kuwait but the Iran-backed militia has totally rejected the suggestions of solving the crisis.

Despite the catastrophic humanitarian situation, efforts must be focused on the political solution, which will ensure the permanent solution to the humanitarian situation, confirmed al-Yamani, who praised the international support, mainly the generous support provided by the Arab Coalition led by Saudi Arabia for alleviating suffering of the Yemeni people.

The Saudi-led Coalition recently financed the humanitarian plan in Yemen 2018 with USD 1.5 billion; half of the total value of the plan announced by the UN.

He noted that the UN Resolution 2216 is the legal foundation must be maintained as one of the three references of peace in Yemen and as outcome of the UN efforts in Yemen and its security attachments leasing to the UN Resolution 2201, which all reject Houthi control on the state of Yemen on the bases of the mullah's rule.

He confirmed readiness of the government of Yemen for sustainable peace based on the militia withdrawal from cities, handing over weapons and rockets, quick stop of rocket aggression on neighboring countries and transfer into political party as a sole condition for participation in permanent peace.

For their parts, the experts expressed pleasure and appreciation for such initiatives aiming at exchange viewpoints and discussing issues and problems associated with Yemen in the UN Security Council in cordial atmosphere and called for regular holding of such forums for deep understanding of Yemen's issue.

The UN representative stressed on humanitarian situation, confirming political solution on the basis of Resolution 2216.



---

Ambassador Mujalli discusses cooperation with bulanda officials

Al-Zubaidi renews support Consultation and Reconciliation Commission

Al-Zubaidi briefed on the efforts of the Al-Wadeah land outlet

Jawf's local authority discusses with OCHA humanitarian interventions

The President of the Presidential Leadership Council heads to Abu Dhabi on an unofficial working visit

Governor of Al-Mahra inspects the progress of construction work in the project of KS Medical City

Planning Minister discusses plan of action, activating the Central Bureau of Statistics

President of the Presidential Leadership Council meets Presidency of the Consultation Commission

Handicap's interventions in Lahj discussed

Appointing Faez Qahtan, Commander for Second Military Region