[06/11/2017 08:54]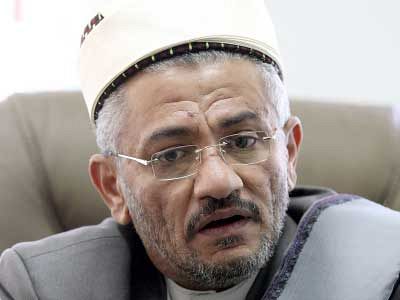 ADEN-SABA
The Head of the Supreme Court JudgeHamoud al-Hitar has said suicide and terrorist attacks have hugely affected Yemen's security, policy and economy and showed Islam contradicting moderation confirmed by Quran and Prophet Mohammad's Sunna.

He added Yemen- as Islamic state- its constitution, which stipulates that Islamic Sharia is the source of all legislations and its laws are based on Sharia-prohibits suicide and terrorist attacks that target souls protected by Allah when He said " And do not kill the soul which Allah has forbidden, except by right."

There are many Quran texts mentioned in a number of Surats prohibiting taking lives of people, said al-Hitar who referred to this verse: "Because of that, We decreed upon the Children of Israel that whoever kills a soul unless for a soul or for corruption [done] in the land – it is as if he had slain mankind entirely. And whoever saves one – it is as if he had saved mankind entirely.And our messengers had certainly come to them with clear proofs. Then indeed many of them, [even] after that, throughout the land, were transgressors."

He also cited Prophet's Mohammad sayings;"O People, verily your blood, your property and your honour are sacred and inviolable until you appear before your Lord, as the sacred inviolability of this day of yours, this month of yours and this very town (of yours). Verily you will soon meet your Lord and you will be held answerable for your actions."

He made it clear that all signatory countries of the UN Chart are in a state of contracts of peace and bloods of their nationals are protected and that suicide and terrorist attacks never relate to Jihad, rather they are crimes should be punished by law.

Al-Hitar praised efforts of security forces and Arab Coalition in fighting terrorism in the transitional Capital of Aden.


---

Appointing Faez Qahtan, Commander for Second Military Region

President meets with Parliament Speaker, MPs on latest developments

Ministry of Foreign Affairs receives copy of the credentials of the Libyan ambassador

Foreign ministry expresses solidarity with Saudi towards everything that threat its security

Presidential Council chair puts Yemeni people before the reality of the situation in Shabwa

PM confirms government's full support for the leadership of the new local authority in Hadramout

PM directs for immediate tackling to reduce the repercussions of flood on IDPs in Marib

Ambassador Mujalli discusses with Polish official agricultural support to Yemen

Foreign Minister meets President of the Jordanian Senate

Yemen, Jordan sign MOU on political consultation