[21/10/2017 05:05]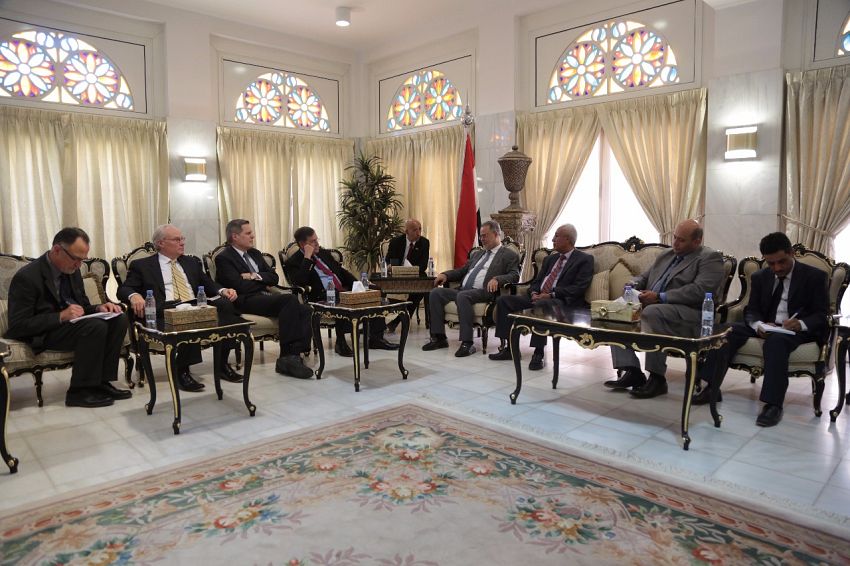 RIYADH-SABA
The Deputy Premier, Foreign Minister, Abdulmalik al-Mikhlafi discussed with US Acting Assistant Secretary of State David Statterfield the latest developments in Yemen.

The Foreign Minister reconfirmed that Yemeni government supports efforts made by the UN Secretary General Special envoy to Yemen Ould Al-Sheikh Ahmed in order to move peace process ahead. He blames the putschists for the lingering warfare Yemen has been plagued by. Their intransigence has led to a gridlock, they rejected all suggestions and possible solutions proposed earlier to make peace, he noted.

Al-Mikhlafi said:" The putschists adopted Iranian manner, betting on time and pushing toward edge. Peace isn't their choice".

"Peace is the government's main option, war is imposed upon us, it must produce peace, we have to do more to make peace", he added.

Al-Mikhlafi stressed that Iranian interference in the region has proved destabilizing and promoting turmoil. Iran seeks to substitute the State with sects, official armies with militias".

The American official voiced his country's support to the legitimate government in Yemen represented by President Hadi.

Mr Satterfield expressed his government's support to the efforts made by the UN envoy to Yemen Ould al-Sheikh Ahmed to make peace. " We think the status quo is beset with intimidations and challenges, many players including Iran and Al-Qaeda" , he said.


---

Kuwait reaffirms continuous humanitarian support to Yemen

Al-Sa'adi discusses with UN advisor humanitarian situations in Yemen

Ambassador Yaseen discusses with French official latest developments in Yemen

Military source: 10 soldiers killed in two terror attacks by Al-Qaeda

Eryani: Increasing parricides in Houthi-controlled areas a result of radicalisation

Solicitor-General discusses with ICRC improving forensic medicine

Saudi Arabia, Jordan affirm support for Presidential Council & peace in Yemen

Yemeni-Kenyan relations discussed

Bin Mubarak appreciates Norwegian efforts to push peace in Yemen

Saudi Arabia, Egypt confirm support to efforts of political solution in Yemen