[15/10/2017 02:58]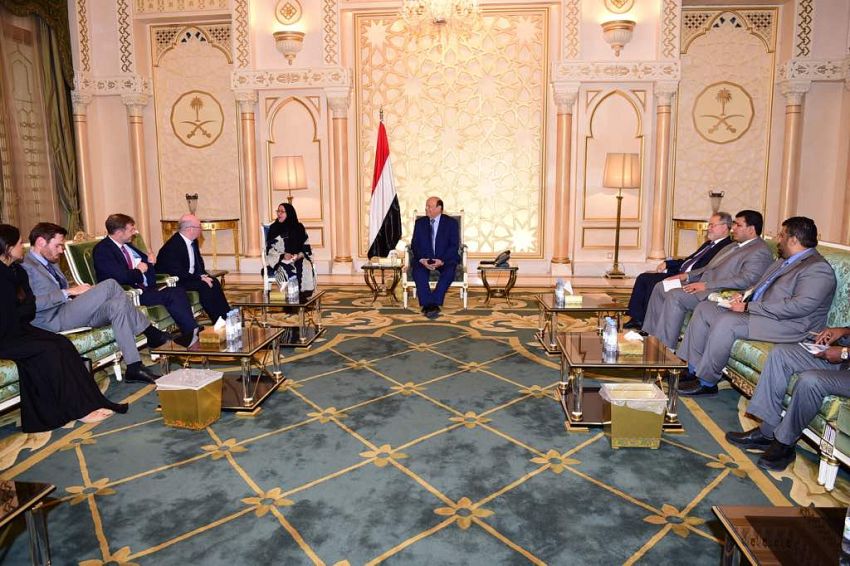 RIYADH-SABA

President Abdu Rabbu M. Hadi has renewed his preference of peace saying "for it, [the government] went to Biel and Geneva in Switzerland and to Kuwait, in spite of its certainty that the coupers were not seeking peace and not serious about it for their decision is not of their own making."

In a meeting with the visiting British Minister of State for Middle East Affairs Alistair Bur, in Riyadh on Sunday, Hadi said: "We had held a national dialogue inclusive of all sets of stakeholders including the Houthis who proceeded along to the stage of signing all the dialogue's outcomes including the draft constitution only to rebel all of a sudden against the national unanimity. Because customarily they don't keep any covenants or agreements.

They declared the war and overrun the cities, a move that we are suffering the consequences of to this day."

He said: "We welcomed, and still, welcome the efforts for achieving peace, the last of which was the UN envoy to Yemen Ismail Ould Cheikh's proposal regarding the [Saleh-Houthi militias'] handover of Hodeidah seaport and Sana'a Int'l Airport and the collection of the port's revenues by the Hodeidah Central Bank branch office under UN supervision. So that we can pay the employees' overdue salaries in those provinces [they control]. But as always, the coupers don't want peace, call for peace or care about alleviating the suffering of employees and ordinary people. They will always be like that. Simply, because they are ideologically and structurally a religiously radical sectarian militia that does not believe in coexistence, pluralism or democracy."

The British official expressed his country's support for the Yemeni legit leadership until ending the coup and establishing peace.


---

President al-Alimi receives Norwegian foreign minister

Leadership Council chairman meets US Secretary of State

Leadership Council chairman receives UN Special Envoy

resident al-Alimi congratulates Italian President on his country's National Day

President al-Alimi receives American Ambassador

Leadership Council chair praises GCC for supporting Yemen and its just cause

President al-Alimi congratulates Turkish president on winning elections

President al-Alimi convenes high-profile meeting includes Speakers of Parliament, Shura Council

President al-Alimi praises UK's support for the Yemeni people

President al-Alimi receives Ambassador of the People's Republic of China