[11/07/2017 03:15]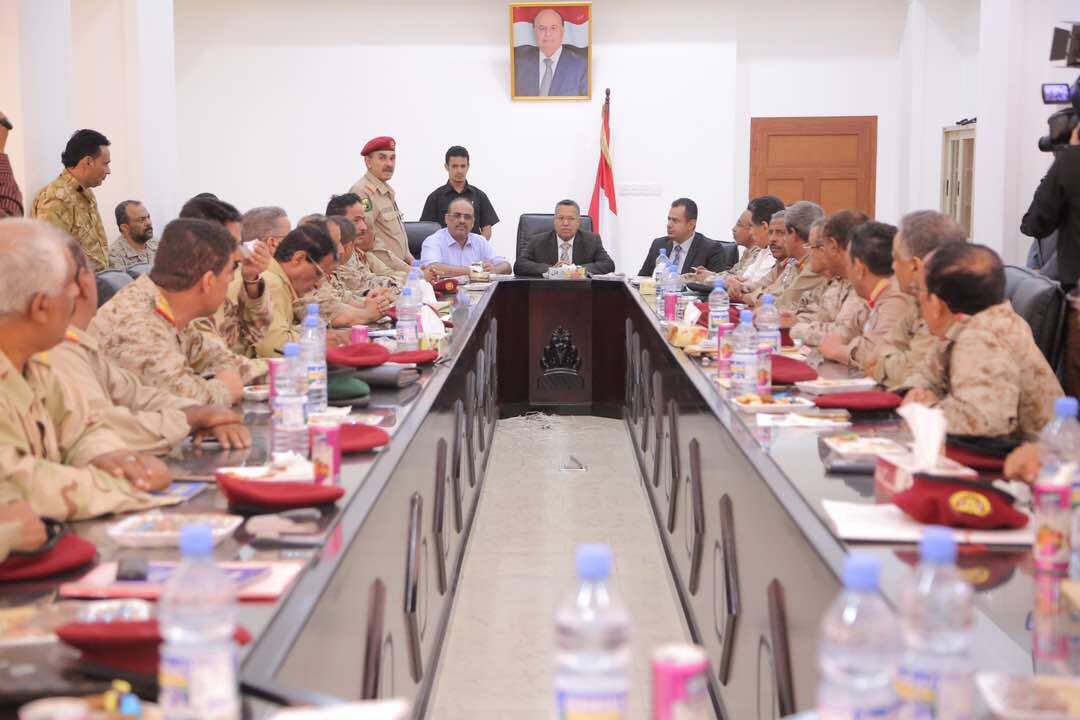 ADEN-SABA
Prime Minister Ahmad Obeid bin-Dghr inspected on Tuesday the premises of defense ministry at the Republican Palace at Towahi District here where he was received by Vice of Chief of Staff General Saleh al-Zandani and senior military commanders.

"The National Army represents the backbone of the state and the state would not have been established…only under a national army," said bin-Daghr, while presiding over a meeting for a military commanders.

The national army, he added, means that it must belongs to the homeland and those countries which did not built their armies on this foundation were dragged into chaos as an army was a reason of the state's collapse as the case in our army, which fought Houthis for a whole decade and suddenly returned to an alley to them.

"The national army has been rebuilt with support and big cooperation with brothers in Saudi Arabia and the United Arab of Emirates..its new units are in warfronts, which are facing the rebel militias and achieve advance towards the capital," he said.
He added that firmed cooperation between the army and and armies of the Arab Coalition boosts beating those rebel militias and regains principles of military doctrine of Yemeni army for defending the republic and the unity (under federal state) established by the National Dialogue Conference.

The government has been able to set up new foundations for paying salaries of the military and security forces and is preparing to pay salaries of March and April during the forthcoming days.

He announced that the government has completed maintenance of ten premises for the military forces and five for security.
He was briefed by the Vice Chairman of Military Staff and Commander of the Forth Military Zone FadhlHasan on fighting readiness across warfronts for regaining the legitimacy and upending the coup.






---

F.alhusary: Al-Eryani meets with Chair of Spanish Parliament Committee on Foreign Relations

FM discusses with Italian counterpart latest developments in Yemen

F.alhusary: Yemen, Cuba discuss bilateral relations

VP acclaims troops' heroic fighting against Iran-backed Houthi militiamen

FM, Italian SP review Yemen developments

Dep. Interior Minister stresses importance of international cooperation in combating terrorism

Al-Wali and Al-Qobati discuss strengthening cooperation with UNCTAD

VP congratulates Emirati counterparts on the Golden Jubilee of National Day

FM meets WFP deputy CEO

Yemeni-Turkish security cooperation discussed