[13/06/2017 10:04]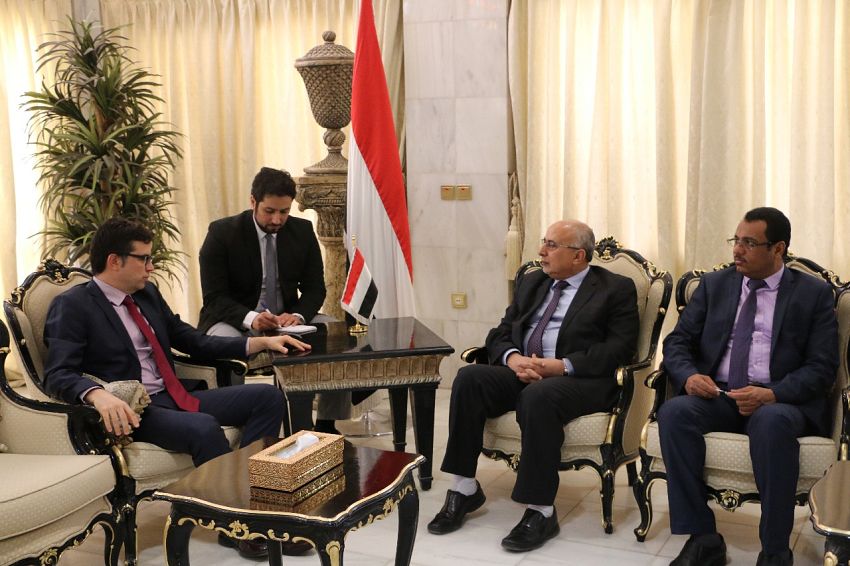 RIYADH-SABA

The Chairman of the Supreme Committee for Relief Aburraqeeb Fatah discussed today with the Turkish ambassador to Yemen Levent Eller the measures for receiving a Turkish aid vessel slated to arrive in Yemen. The shipment includes foodstuff, medical equipment and wheelchairs.

Fatah who is also Yemen's Minister of Local Administration discussed with Eller the bilateral cooperation in light of the solid relationships binding Yemen and Turkey.

Fatah spoke highly of the Turkish support to Yemen in different areas saying the Yemeni people and government appreciate that.

The two officials discussed coordination between the SCR and the Turkish Coordination and Cooperation Agency TIKA. Fatah said the SCR has been coordinating with all donors and helping deliver relief aid to the Yemeni people.

The minister acknowledged that the efforts of the donors helped to a significant extent alleviate the humanitarian misery in the country.

He called for more cooperation in all areas especially in staving off cholera.

Fatah said that cholera is rampant in the coup militia-controlled parts of the country as a result of the pileup of rubbish. Garbage collectors are off work because the militias suspended their salaries, he explained.

Fatah called on the donor organizations to support Yemen in the field of environmental hygiene to counter the epidemic.

He said that Aden seaport is fully ready to receive all relief shipments from all friendly countries calling for shipping such aid to Aden seaport instead of the Hodeidah seaport, where the militias in control impede the offload and arrival of shipments to their end destinations in the country.

He emphasized that in this humanitarian regard, all the country's seaports and airports should be under the administration of the government. And here comes the role of the international community to press the coup militias into handing over those ports.



---

Prime Minister initiates roundtable discussions between government and UN in Aden

Dep. Chief of Staff talks with European Ambassadors over Houthi militias' escalations

Minister Buhaybeh, UNFPA representative discuss interventions in health sector

Chairman of Presidential Council arrives in Dubai to participate in climate summit

Foreign Ministry condemns Dutch parliamentarian's denial of the rights of Palestinian people

Council of Ministers reviews economic, financial, monetary reforms

Yemen presidential council chairman confirms full support for Egypt's position toward Palestinian cause

Leadership Council chairman welcomes temporary truce in Palestinian territories

Yemen welcomes ceasefire agreement in Gaza Strip

Ambassador Al-Maytami participates in Belt and Road Initiative conference in Jinhua, China