[12/05/2017 12:22]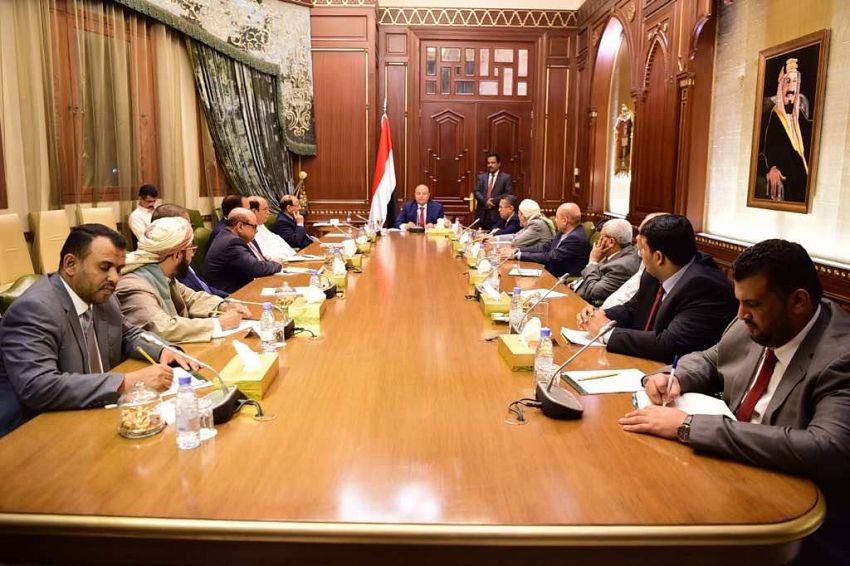 Riyadh, (Saba)- President Abdo Rabbu Mansour Hadi discussed with his advisors a number of national issues to define choices of Yemeni people and establishing the new Federal Yemen on bases of justice, equality and good governance agreed upon by Yemeni people in the National Dialogue Conference overthrew by Houthi-Saleh's Alliance.

The meeting between the president and his advisors issued Thursday a release in which it welcomed all peaceful and political activities in the framework of Yemeni people's right to practice all its activities and formation of political parties and entities under the legitimacy and in accordance with national foundations and regulations.

The meeting absolutely rejects the so-called Southern Transitional Council formed Thursday to manage and represent the south.

The presidency confirmed that such practices and activities totally contradict the three foundations agreed upon locally, regionally and internationally; the Gulf Initiative and its Executive Mechanism, the National Dialogue Conference's outcomes and the United Nation's Resolution 2216.

Such practices are baseless and totally rejected as they are targeting the homeland's interests, its future, social fabric and its decisive battle with Houthi-Saleh's militias, said the release, they are only serving rebels and those who stand behind them and put the just southern issue in unworthy position.

The meeting confirmed the unity of the aim the Arab Coalition's military operations defend; upending the coup, restoration the state and implementing the outcomes of the National Dialogue Conference for building Yemeni Federation.

The meeting call all Yemeni people and the national army and the people resistance not to pay attention to media or political battles created by weak people, confirming that the presidency will not save any effort to serve the interest of the people and liberating them from Houthi-Saleh's militias.

The release of the meeting called all officials and those whose names included in the so-called Southern Council to declare a clear attitude towards this council and that the presidency values the key role of brothers in the Gulf countries and Arab Coalition led by Saudi Arabia for supporting Yemen and its legal leadership.

The meeting urges the president to take all measures ensuring enhancing integration of all Yemeni people's fronts to end the coup and overturn the coup and halting any act contradicting the three references and affecting negatively the process of our battle against rebels (Houthi-Saleh Alliance).







---

President al-Alimi receives French Ambassador

President of the Sudanese Sovereignty Council receives Yemen FM

Leadership Council chairman exchanges Ramadan good wishes with Arab and Muslim counterparts

President al-Alimi: Yemenis strongly united with International Community about the Yemeni cause more than ever

Leadership Council chairman receives China's acting ambassador

President al-Alimi receives Ambassadors of European Union, the Netherlands

President al-Alimi calls for general reconciliation in Aljawf governorate

President al-Alimi congratulates on Irish National Day

President al-Alimi attends US celebration on opening first mission in Yemen

President al-Alimi receives UN envoy for Yemen