[04/05/2017 03:50]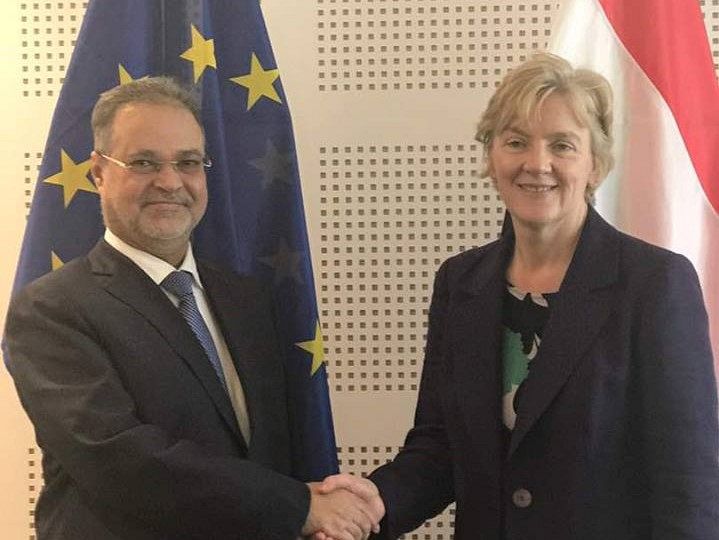 Brussels (Saba)- Deputy Prime Minister and Foreign Minister Abdul-Malik al-Mikhlafi has commended the European Union's roles in supporting Yemen in different stages.

He pointed out that the EU played significant roles in backing Yemen in the meeting of humanitarian response plan for Yemen held on April 25 in Geneva.

In a meeting held Thursday in Brussels with Chair of the European Parliament's International Development Committee Linda McAvan , the deputy premier affirmed that the humanitarian situation in Yemen is very dire, making clear that the war carried out by the Houthi-Saleh militias worsened the sufferings of the Yemeni people.

"50% of Yemenis lived under the poverty line before the war because of the corrupt authoritarian regime of Former President Ali Abdullah Saleh who plundered the country's wealth and ignited many wars before Yemen's 2011 youth revolution," he spelt out.

He noted that the Yemeni government operates to facilitate the delivery of the humanitarian assistances to all people affected by the war across Yemen, emphasizing that the Yemeni government sought to avoid the war and the Houthi-Saleh militias have not committed to any agreements or the UN resolutions on Yemen.

For her part, McAvan expressed sorrow over the deterioration of humanitarian situation in Yemen, pointing out that the insistence of the putschists to cling to power has pushed the Yemeni people to pay an excessively high cost.

"We will cooperate with the legitimate government to deliver the humanitarian assistances to all Yemeni cities and governorates" she added.

Both officials also discussed Yemen's updates and the humanitarian situation in Yemen.



---

Planning Minister meets new Resident Representative of the UNDP in Yemen

Consultation and Reconciliation Commission stresses on adherence to declaration of power transfer

President al-Alimi returns to Aden

Shujaadin seeks IAEA's collaboration with Yemen

Social Affairs Minister meets with his Emirati, Libyan counterparts

BinMubarak, German official explore peace prospects

Al-Erradah, Military advisor of UN's envoy discuss the Terrorist Houthi militias' escalation

Minister of Youth meets with senior advisor of Norwegian Foreign Ministry

Planning minister meets delegation of the Ministry of Foreign Affairs and Commonwealth Affairs

Camp to Haima displaced people to be established in Khokha