[23/04/2017 07:55]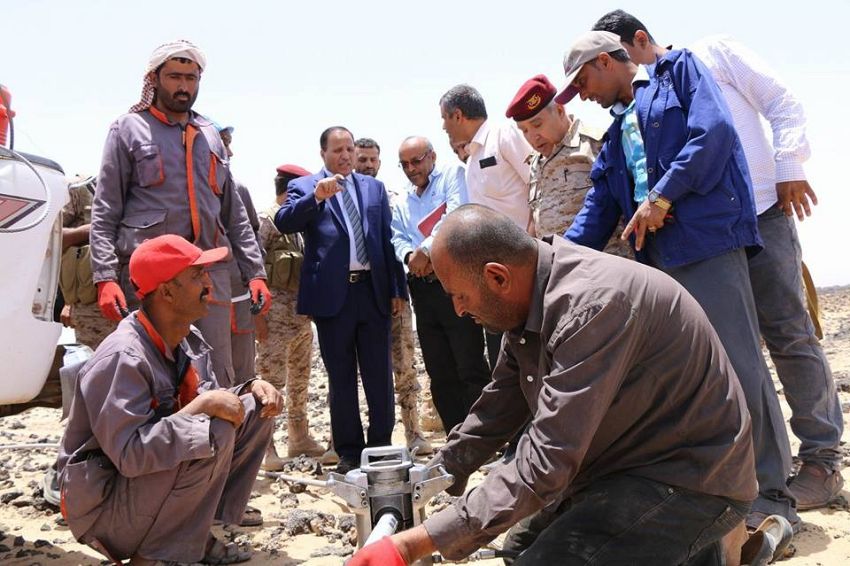 Mareb, (Saba)- Deputy Prime Minister, the Minister of Civil Service and Insurances Abdul-Aziz Jubari inspected Sunday the ongoing work of maintaining power lines of Mareb Gaz-Generated Plant carrying electricity from here to the Capital Sana'a.

Minister Jubari confirmed government's keenness on providing different forms of support and facilitations to maintenance teams to provide people in different governorates with power during the Holy month of Ramadan due on the 27th of June.

Houthi-Saleh's militias intentionally damaged the power lines to cut electricity from the its main source in Mareb and worked on banning conduction maintenance, said Jubari.

He added that military demining teams have dismantled thousands of landmines laid by the militias around power towers.

He called on rebels ( Houthi-Saleh's alliance) to neutralize public services and electricity away of clashes and enable engineering teams to perform their duties in their-held areas and to consider suffering of Yemeni patients in hospitals over power cut.

Jubari was briefed by Director of Power Transfer Plants at the General Electricity Corporation Mohammad al-Shaibani on the ongoing work in the project that include fixing the first power circle extended from Safer here to the Capital Sana'a in parallel with linking transfer lines from Safer to reduction plants in Mareb to link the governorate with power.

15 towers have been fixed yet and the work is going on to reach Nihm District of Sana'a governorate, 46 Kilo meter away of the Capital Sana'a, said al-Shaibani.

He talked about challenges facing their work like big funds of 29 million YR and security in Nihm, which is witnessing wars with rebels.



---

Foreign Ministry condemns Dutch parliamentarian's denial of the rights of Palestinian people

Council of Ministers reviews economic, financial, monetary reforms

Yemen presidential council chairman confirms full support for Egypt's position toward Palestinian cause

Leadership Council chairman welcomes temporary truce in Palestinian territories

Yemen welcomes ceasefire agreement in Gaza Strip

Ambassador Al-Maytami participates in Belt and Road Initiative conference in Jinhua, China

Yemeni gov't declares absolute rejection of Houthi terror threat to international shipping traffic

Prime Minister welcomes Director General of BTA in Aden

Planning Minister seeks British support for humanitarian, development programs

Minister of Finance, Dutch Ambassador discuss economic developments and implementation of reforms