[30/03/2017 04:00]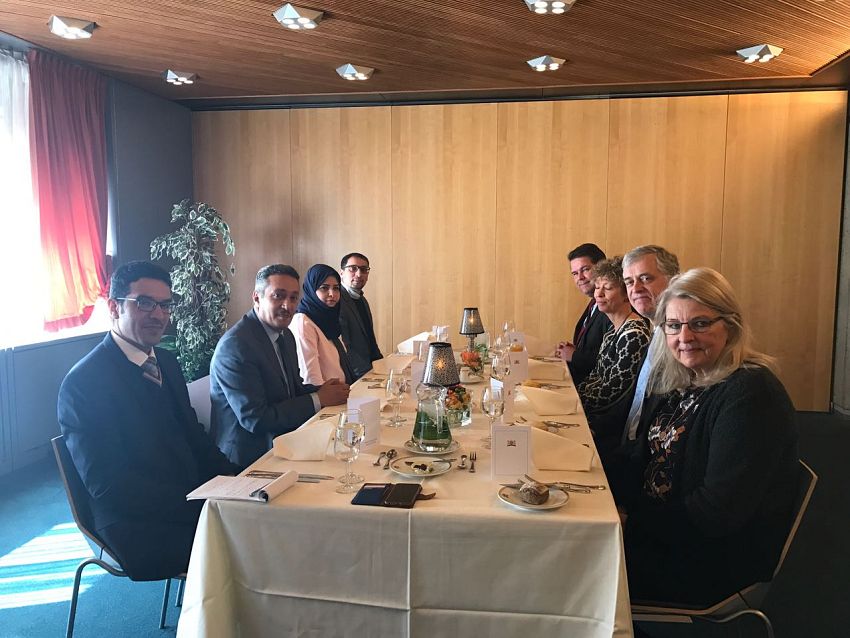 Hague,(Saba) - Assistant Deputies of Human Rights Nabil Abdulhafiz and Lula Abdulkarim have confirmed the government has been keen on presenting its report in the 34th Round of Human Rights Council to show to the world the real face of rebels.

In their meeting with Dutch Human Rights Ambassador and Director of Human Rights Department and International Cooperation and Cultural Organizations at Dutch Human Rights Ministry Kees van Baar, the two deputies said Houthi-Saleh's militias have committed 77 violations after their coup against the legal government.

Abdulhafiz and Abdulkarim reviewed the mess has being done by the rebels in the ministry of human rights under their seizure, utilizing its cadre in Sana'a to issue misleading reports, ignoring violations committed by Houthi-Saleh's militias. The militias are shutting mouths, seizing freedoms and free expressions, carrying out illegal arrest, forcibly disappearance and cracking down on journalists and throw them in prisons, banning their relatives to visit them.

For his part, Baar said Dutch government exerts huge efforts for protecting human rights, the international law and efforts exerted by UNHCR, reaffirming keenness on enhancing relations with Yemeni Ministry of Human Rights and provide support to Yemen for facing many challenge.

The two deputies also discussed with Dutch Ambassador to Yemen Robert Biter miserable humanitarian conditions in Yemen after Houthi-Saleh's rebellion against the legal authority and looting relief and humanitarian goods.

They highly valued Netherland's great efforts supporting development and economy in Yemen, as well as its positive attitude in the UN and the EU for supporting the constitutional legitimacy and democratic transitional Yemen has faced during the transitional.

Assistant Deputies of Human Rights Minister Nabil Abdulhafiz and Lula Abdulkarim also met with a delegation from Amnesty International, headed by Human Rights Programs' Chairwoman Flore Bioming and discussed with them checking up information and data they receive and depend on writing their reports.

The deputies showed willingness of their ministry to provide the organization with accurate information.



---

Jawf's local authority discusses with OCHA humanitarian interventions

The President of the Presidential Leadership Council heads to Abu Dhabi on an unofficial working visit

Governor of Al-Mahra inspects the progress of construction work in the project of KS Medical City

Planning Minister discusses plan of action, activating the Central Bureau of Statistics

President of the Presidential Leadership Council meets Presidency of the Consultation Commission

Handicap's interventions in Lahj discussed

Appointing Faez Qahtan, Commander for Second Military Region

President meets with Parliament Speaker, MPs on latest developments

Ministry of Foreign Affairs receives copy of the credentials of the Libyan ambassador

Foreign ministry expresses solidarity with Saudi towards everything that threat its security