[15/03/2022 07:43]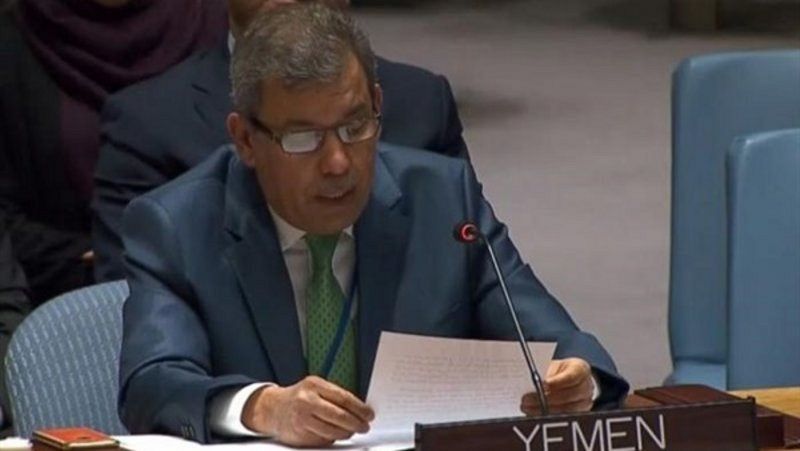 NY - SABA
The Yemeni Government has said the agony of its people is "entering its eighth year owing to the Houthi persistence with military escalation, and rejection of all settlement proposals.

Addressing the UN Security Council's session today, Yemen's permanent representative to the UN Abdullah Al-Saadi stressed the importance of the donors conference which will be held tomorrow to raise funds for the Yemen humanitarian response plan 2022, calling on donor countries and organizations to make generous pledges to plug the finance gap as it affects the humanitarian operations in Yemen.

He said Yemen needs to stay on top of the international community's agenda since Yemen's economic crisis is complicated further by every new international crisis that comes to pass.

Al-Saadi renewed Yemen's welcoming of the Security Council's resolution 2624 adopted last February, saying the Houthi militia earned themselves the terrorist group designation by years of hard work of terrorism and barbarism.

He said the resolution is a crucial step to prevent Houthis access to Iranian military supplies which are responsible for prolonging the war and worsening the humanitarian situations.

He called on the Council to support Yemen's economic recovery and income sources reconstruction.

He appreciated the efforts of Yemen's friend countries for helping alleviate the humanitarian suffering saying Yemen needs more support to catch up on the development that Houthis had caused to stall.

He said the government has offered major concessions to make the missions of the UN peace mediators a success, but those concessions ran into Houthi maximalism and military escalations.

He called on the international community to pressure the militia and the Irania regime behind them to call off the Houthi escalation and engage the militia into positive peace talks.


---

Chief of Staff participates in Egyptian Defense Expo (EDEX)

Masam removes 758 landmines from different areas last week

Brig. Tariq inspects final arrangements to operate al-Mock airport

Leadership Council chairman concludes visit to the United Arab Emirates

Health Minister reviews effects of climate on health in Yemen

Yemen participates in 39th Ministerial Session of COMCEC

PM: Water problem in Yemen is major issue that must be dealt with

Akbari participates in coordination meeting of the Arab-Russian Cooperation Forum

Chief of General Staff begins an official visit to Cairo

Seminar about Humanitarian International Law in Aden