[17/03/2019 07:36]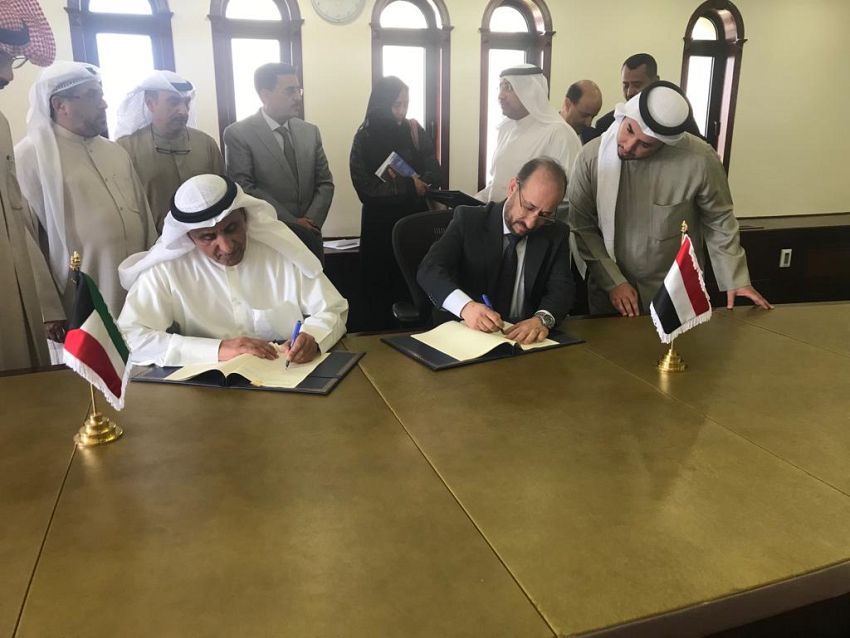 KUWAIT-SABA
The Republic of Yemen and the Kuwaiti Fund for Arab Economic Development signed on Sunday five development treaties in the framework on unique relations and fruitful cooperation between the two brotherly countries.

Minister of Planning and International Cooperation Najeeb al-Awj signed the treaties from Yemen's party and Director of the Kuwaiti Fund Abdulwahab al-Badr from Kuwaiti party.

The treaties included funding development projects in Yemen in addition to financial preparations treaties for resuming development projects financed by the State of Kuwait.

The first treaty includes financial preparations for alleviating burdens on the Republic of Yemen's over debts to the Kuwaiti Fund, stipulating on rescheduling paying the KD 39, 6 million within 40 years with additional 15 years as respite and one percent profit.

The second treaty stipulates on regulating loan-treaties signed with Kuwait during the two donor conferences in London and New York and reducing loans profit from 20 percent to 10 percent.

The third treaty was on supporting rural development project in a number of provinces.

Meanwhile, the forth treaty on regulating paying back table and the fifth treaty is on regulating the Fund's grant for financing and equipping the College of Sabah al-Ahmad in Socotra Archipelago.

Minister al-Awg acquainted the Director of the Kuwaiti Fund with recent developments in Yemen, especially in fields of reconstructions and economic situations, as well as exerted efforts for resuming projects financed by donors.

The two parties also discussed improving and enhancing Aden's electricity and constructing a new power-generating plant with output of 520 MW.

Al-Awj praised contribution of the State of Kuwait for supporting Yemeni and alleviating burdens on it over the current conditions and resuming development projects financed by the Kuwaiti Fund.

For his part, the Director of the Kuwait Fund al-Badr confirmed continuous support to Yemen's development.


---

Yemen calls on international community to help it managing natural disasters' risks

Parliament presidency holds meeting with PM to find out about current developments

US ambassador condemns terrorist Houthi militia's attack on the Baha'is

FM receives credentials copy of Polish ambassador to Yemen

SJC approves formation of an accountability council headed by Judge Haydan Jomaan

Planning Minister, UNICEF representative discuss humanitarian interventions for the current year

FM receives credentials copy of South Africa's ambassador to Yemen

FM: Evacuating all Yemeni citizens in Port Sudan evacuated

Arab-Chinese Forum puts emphasize on the unity, sovereignty and territorial integrity of Yemen

MASAM removes 875 Houthis-laid landmines in a week