[26/03/2018 02:44]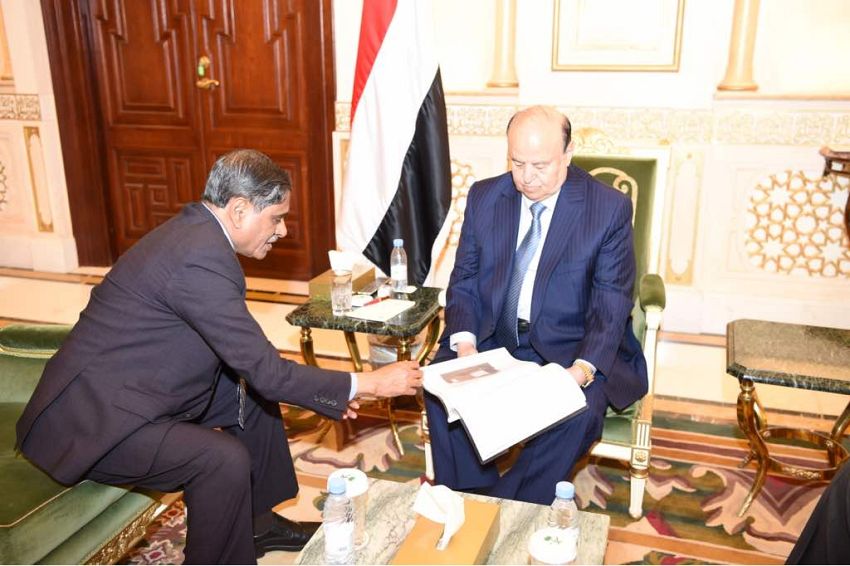 RIYADH-SABA
President Abd-Rabbo Mansour Hadi received on Monday Governor of Hadhramout, the Commander of the Second Military Zone Maj. General Faraj al-Bahsani, who briefed president on latest developments, normalizing conditions and projects in Hadhramout.

Al-Bahsani acquainted the president on the projects being implemented; Rasba Road 70 KM, al-Madi Road 110 KM, widening Abdullah Gharib mountainous road of al-Aqaba, finalizing Hajar Bridge, equipping 10 secondary and primary schools, finalizing al-Maqdar Water Project and digging 10 wells for irrigation, as well as rehabilitating Mukalla internal roads and the building of the Command of the Second Military Zone.

He presented a report on implementing Police Academy Project in Hadhramout Region and necessary equipment.

President Hadi directed paying YR. one billion for implementing the project and issuing a decree for appointing a leadership to the academy.

He also authorized Petromasila Company to make studies with concerned bodies to establish the Coast Power Plant with output of 100 MW after success of accomplishing the Valley power.

President Hadi also directed governor al-Bahsani to draft a decree for appointing leadership of the Valley and Desert University and commencing establishing buildings of Hadhramout Region.

He praised great victories accomplished by heroes of the Second Military Zone against al-Qaeda terrorists and cleansing al-Masini Valley from them.

He also praised efforts of local authority in Hadhramout and urged them on exerting more efforts for normalizing life and tightening security and stability, stressing on high alerts and readiness for facing emergent terrorist attacks.

For his part, Governor al-Bahsani expressed gratitude for keenness and follow up of president to situations in Hadhramout and his directives for realizing the development and security and stability of the province.

Al-Bahsani confirmed that Hadhramout supports president's plans for ending the coup and ridding the homeland from Houthi militia and supports the Federation in Yemen.






---

Leadership Council chair praises GCC for supporting Yemen and its just cause

President al-Alimi congratulates Turkish president on winning elections

President al-Alimi convenes high-profile meeting includes Speakers of Parliament, Shura Council

President al-Alimi praises UK's support for the Yemeni people

President al-Alimi receives Ambassador of the People's Republic of China

President al-Alimi discusses with UAE President latest developments in Yemen

President al-Alimi arrives in Abu Dhabi

Presidential Leadership Council holds session to discuss developments in the country

Chairman of Presidential Leadership Council receives Egyptian Ambassador

President Al-Alimi continues to receive more congratulation from world leaders on Yemen's national day May 22