[11/01/2018 04:44]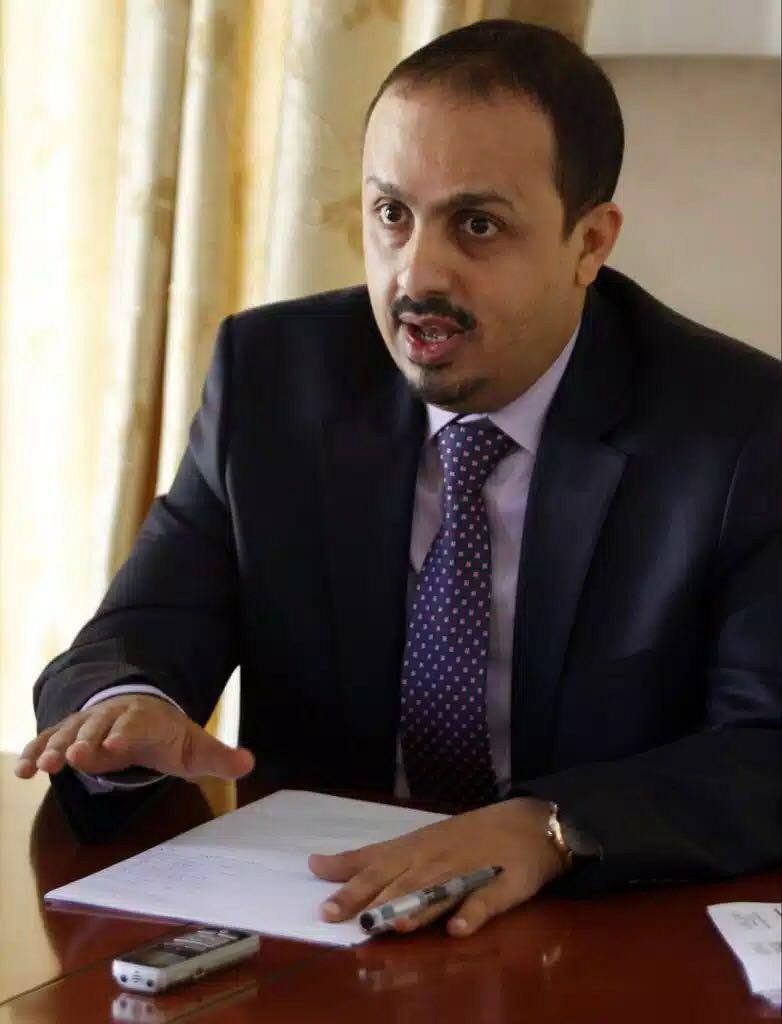 MARIB-SABA
Minister of Information Mo'amer Al-Iryani described Houthi militia's violations and harassments against journalists and media men and women as war crimes won't be dropped with the passage of time.

Al-Iryani appealed to the international community and regional organizations to pressure the militia in order to release the abducted and detained journalists and stop all forms of violations against them.

The minister's statement came on the occasion of Releasing the First Report by the "National Organization of Yemeni Journalists (SDA)".

Addressing the audience on Thursday in Marib, Al-Iryani denounced the violations and harassments committed by Iran-backed Houthi militia against journalists. He stated that the militia has committed different violations against journalists, media leaders and organizations since it has seized the power in the capital Sana'a and several provinces in September 2014." Dozens of journalists have been arrested, forcefully disappeared, tortured and killed by the militia. Many journalist are still detained, disappeared and subjected to torture", said Al-Iryan.

The minister of Information has made clear that his Ministry is deeply concerned about these violations against the media workers and journalists." Violations and harassments are given due attention by the Ministry and will be on its top agenda in 2018", he confirmed.

Al-Iryani noted that the government has done its utmost to help the journalists and media men and women who were subjected the violations and atrocities by the Iran-backed Houthi militia. "The government offered medical treatment for more than 100 journalists, provided financial assistance to several detained and forced disappeared journalists, thanks to the government of the Custodian of the Two Holly Mosques King Salman bin Abdulaziz and the Crown Prince. The Kingdom received some 500 Yemeni journalists and helped to bring several TV channels into operation".

On another occasion, the Minister of Information attended a ceremonial function held to mark the Eighth anniversary of establishing the private-owned satellite channel "Sohail TV" Channel".

The minister praised Sohail TV's role in promoting freedom of expression and defending the nation's national interests, urging its staff and all journalists to sense their national responsibility and promote a balanced medic discourse that can help maintain social fabric, peace and security in the country.


---

Yemen calls on international community to help it managing natural disasters' risks

Parliament presidency holds meeting with PM to find out about current developments

US ambassador condemns terrorist Houthi militia's attack on the Baha'is

FM receives credentials copy of Polish ambassador to Yemen

SJC approves formation of an accountability council headed by Judge Haydan Jomaan

Planning Minister, UNICEF representative discuss humanitarian interventions for the current year

FM receives credentials copy of South Africa's ambassador to Yemen

FM: Evacuating all Yemeni citizens in Port Sudan evacuated

Arab-Chinese Forum puts emphasize on the unity, sovereignty and territorial integrity of Yemen

MASAM removes 875 Houthis-laid landmines in a week