[29/10/2017 07:56]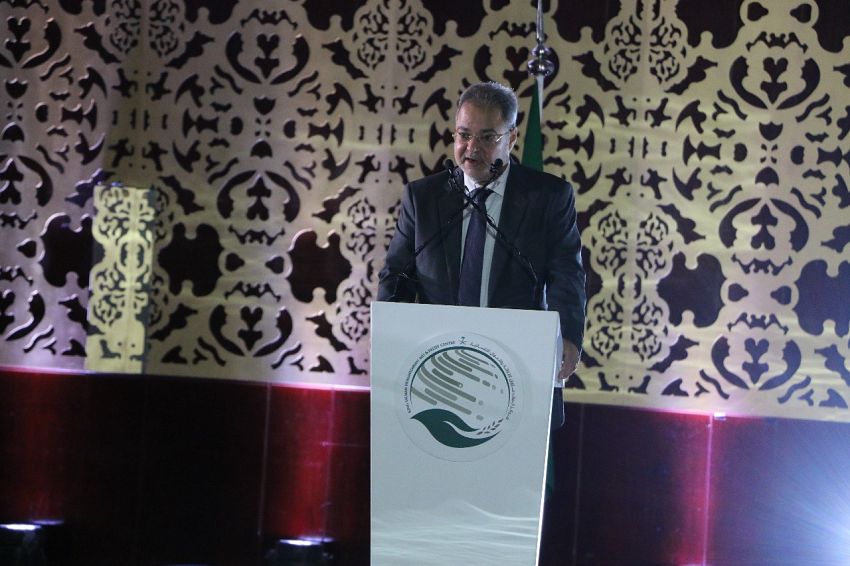 RIAYDH-SABA
Deputy Premier, Foreign Minister Abdulmalik Al-Mikhlafi asserted that ending coup d'état and war, reviving political and peace course can ensure putting an end to humanitarian crisis in Yemen .

Speaking at high-level humanitarian gathering about Yemen , held Sunday in KSrelief Center, in Saudi capital Riyadh, he said: "We're in Yemeni government along with our brethren of Saudi-led Arab Coalition for restoring legality, didn't choose war, rather it was imposed upon us by Houthi-Saleh's militias coup d'état against legitimacy, State, national consensus and peace ."

He went on:" We had to defend our people and homeland, however, we wouldn't keep on fighting as an option if the other party to conflict would believe in peace and would act independently far from dictations and agendas coming from Iran ."

"We're together well aware that this humanitarian disaster in Yemen is one of the coup d'état's upshots, therefore humanitarian case can't be separated from its causes", he added.

Al-Mikhalifi cited six challenges facing humanitarian situation in Yemen including warfare continuation, gap in financing humanitarian action, poor coordination between UN and Yemeni recognized government, not paying salaries in regions under rebellious authority, centralization concerning aid distribution, militias irresponsible actions, the status quo of Sana'a airport and Hodeida harbor and weapon smuggling to Yemen .

The Minister stated that the officially authorized government has responded positively to proposals presented by the UN Special envoy to Yemen, reacted constructively to trust-building measures and the government has continued to insist on the need for ending war via political solution based on the GCC' deal, National Dialogues' outcomes and Security Council resolution 2216 .

He explained that 2017 Humanitarian Response Plan is still facing financing gap estimated at 45% that is to have negative impacts upon aid activities in different sectors, further exacerbate peoples' ordeal.

Al-Mikhalfi said" Humanitarian action in Yemen was badly affected because of lacking sufficient coordination between the Office of Coordinating Humanitarian Affairs in Yemen and legal government".

Concerning government employees' salaries, Al-Mikhlafi indicated that legal government despite of its scarce resources pays salaries and operational budgets in the liberated areas, moreover pays salaries of the judicial system's staffs in the regions controlled by Houthis. Now and then it also pays salaries of some institutions, e.g. Sana'a University recently.

Al-Mikhlafi blames the coup d'état authority for government employees unpaid salaries that they collect revenues estimated at 70% of non-oil returns, meanwhile they refused to provide the Central Bank branches in those governorates with these resources.

For aid distribution, he suggested that four or five centers might be established throughout Yemen to help distributing humanitarian aid fairly and easily without the obstructions created by rebels in the areas they control .

For weapon smuggling, Deputy Premier and Foreign Minister said" As long as militias have continued to control Hodeida harbor, weapons smuggling to the Putschsits wouldn't stop ."

He demanded that militias must be driven out of Hodeida seaport to stop weapons smuggling and help receiving humanitarian assistance and distribution around Yemen.

For Sana'a airport Al-Mikhalafi confirmed that Yemeni government is willing to reopen the airport in case that the Militias get out and hand over management to the crew that was in charge prior the coup d'état in September 2014 .

He expressed deep thanks for the general supervisor of KSrelief Center Dr Abdullah Arrbi'ah for organizing this function and for efforts he has made as well as the humanitarian actions the Center provided to Yemeni people at this critical moment .
He also voiced thanks to the Assistant of the UN Secretary General for Humanitarian Affairs and EU commissionaire for Humanitarian Affairs.


---

Yemen joins Sessions of International Development Association

Saudi Arabia, Qatar confirm full support to solving Yemen's crisis

Chief of Staff discusses with Egyptian Counterpart military cooperation

Electricity Minister, Korean Ambassador discuss cooperation in Energy

GCC confirms its full support for Presidential Leadership Council to reach political settlement

Water Minister participates in the first high-profile meeting on the fair transition

Yemeni embassy in Riyadh first station abroad to see launching of smart ID cards

Yemen condemns Israeli occupation forces' resumed aggression on Gaza

UN Security Council condemns acts of piracy and attacks on ships by the Houthi militias

President al-Alimi warns of delay of facing challenges of climate changes