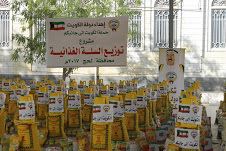 TAIZ& LAHJ-SABA
Under the "Kuwait is by your side" campaign, the Yemeni-Kuwaiti Relief Agency launched three relief programs in Taiz during the month of Ramadan. The projects supplied ready-to-serve meals to 1400 families, Iftar meals to 700 fasting persons and drinking water to 9000 families, all by Kuwaiti funding.
This is a Kuwaiti initiative to alleviate the suffering of families in the war-afflicted and coup militia-besieged city of Taiz.
In Lahj province, the Yemeni-Kuwaiti Relief Agency launched today a food package project under the same campaign.
In the launching ceremonial, Farooq Abdurazzaq, a senior local official, thanked the State of Kuwait for its generous and continuos support to Yemen with and food and medical aid.