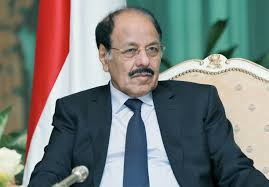 RIYADH-SABA
Vice President Gen. Ali Mohsen Saleh hailed the military's latest push to drive out the Saleh-Houthi coup militia from the western and southern sides of Taiz, in a bid to break the over two-year –long siege around the heavily populated city.
The Vice President made a phone conversation with Commander of Taiz Military Axi Maj. Gen. Khaled Fadhel and the Commander of Brigade 35 Brig. Gen. Adnan al-Hammadi on Saturday.
The Vice President asserted to them the political leadership's interest in the increasing gains of the army, which are hoped to eventually drive out the coup militants, end the suffering of Taiz city's population by breaking the siege. He said that the country is determined to restore the state and protect the Yemeni identity from the Iranian interferences.
Yesterday the army made significant advances in the city's western and southern sides, primarily in Aselw recapturing the whole district. Twenty five militiamen were killed and a number of their vehicles were destroyed. Five personnel were killed from the army.
Mansour al-Hassani, an army general, said the army is unearthing scores of landmines from al-Kadah area.