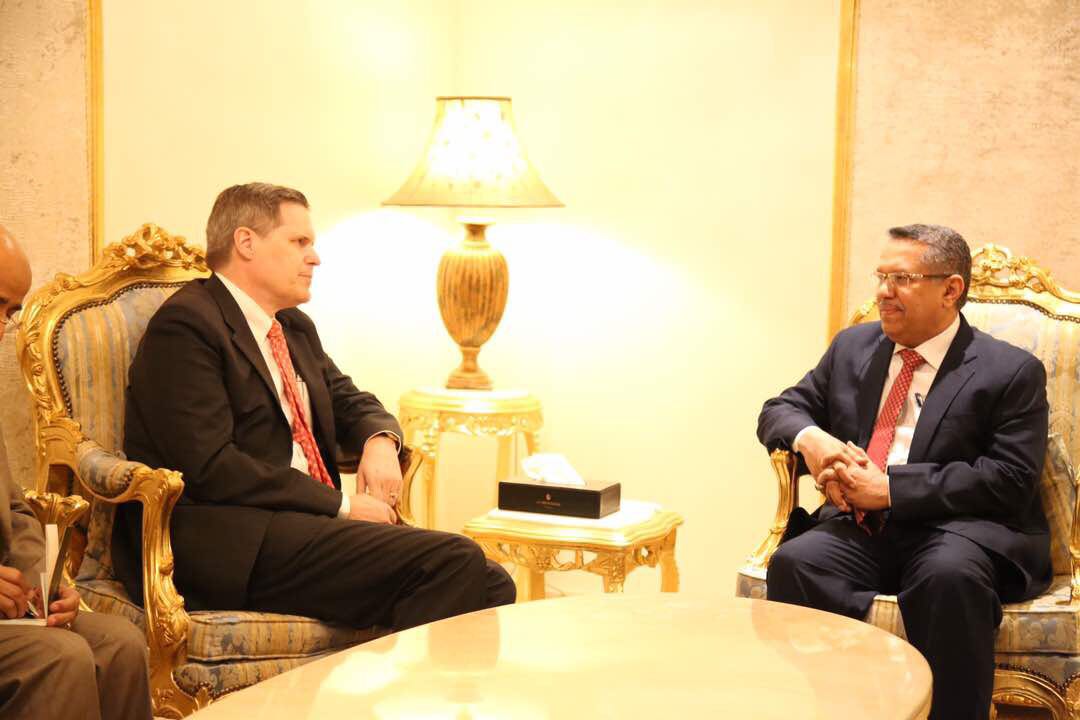 Riyadh (Saba)- Prime Minister Ahmed Obaid Bin Daghar on Sunday received the US Ambassador to Yemen Matthew Tuller, discussing mutual relations between Yemen and the United States.
Bin Daghar praised the US roles in supporting the Yemeni people and the legitimate government to end the coup and fighting the terrorist organizations of al-Qaeda and ISIS.
He also emphasized that the Yemeni government seeks to reach a just and comprehensive solution, pointing out that this solution will be only realized on the basis of the GCC-brokered deal, its implementation mechanism, the outcomes of the National Dialogue Conference.
He also spoke about actions taken by the government to alleviate the suffering of Yemenis, lauding the backing provided by the GCC-States, particularly Saudi Araba.
He also thanked the United Nations which contributed in the success of the meeting of the humanitarian response plan for Yemen held in Geneva on April 25 with the aim of alleviating the suffering of Yemenis.
Bin Daghar stressed the importance of the commitment of the Houthi-Saleh militias to bring all resources to the Central Bank of Yemen in Aden in order to enable the government to pay salaries of the public servants.
For his part, the ambassador reiterated that the United States will go on supporting Yemen to reach a lasting peace in the basis of the basic terms of references.