[20/03/2023 02:25]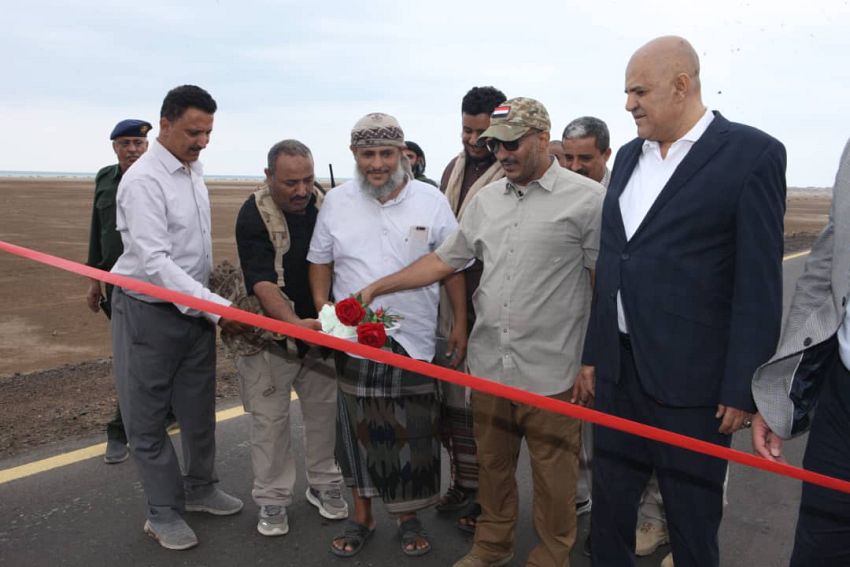 Taiz - Saba
Member of the Presidential Leadership Council, Brigadier General Tariq Saleh, inaugurated three vital projects in Dhu Bab al-Mandab district in the roads, health and water sectors, including the first water desalination plant in Yemen.

Brigadier General Tariq Saleh, along with the Governor of Taiz, Nabil Shamsan, inaugurated the first phase of the project to rehabilitate the public road linking Dhu Bab Al-Mandab at a length of 27 km, funded by the Joint Forces Command, which aims to strengthen the vital infrastructure and transportation lines between the liberated governorates, and the opening of a hospital in the city of Dhu Bab Al-Mandab after being rehabilitated by the Humanitarian Cell, and met with the dignitaries of the region and the directors of the executive offices in the district.

He directed the Humanitarian Cell to equip the operating room and scouts, so that the hospital could provide the desired services to the citizens.

Brigadier General Tariq Saleh also inaugurated a desalination plant for drinking water, which covers the needs of the people in the Bab al-Mandab areas, as the areas there lack potable groundwater.

The new desalination plant, with the generous support of the United Arab Emirates, represents a qualitative leap that was achieved through concerted efforts to address the water crisis in the region, and is expected to play a major role in the continuous development and growth in the region, as a major step towards ensuring access for people living in those areas that suffer from water scarcity, to safe and healthy sources of drinking water.

Brigadier General Tariq Saleh concluded his visit to Dhul Bab al-Mandab, along with a number of leaders of the local authorities and security services in Taiz, with a tour of the district's beaches and directed the humanitarian cell to prepare for the construction of a breakwater to serve the fishermen.

Brigadier General Tariq Saleh toured the popular neighborhoods and markets and met a group of citizens, who in turn expressed their satisfaction with this visit, which came from a member of the Presidential Leadership Council to address the concerns and aspirations of the people of the directorate.


---

President al-Alimi warns of delay of facing challenges of climate changes

President al-Alimi holds meetings with participating presidents in COP 28

President al-Alimi, Member of PLC al-Zubaidi participate in COP 28

A sister city agreement signed between Taiz and Djibouti governorates

Yemen, Morocco sign judiciary cooperation agreement

Prime Minister initiates roundtable discussions between government and UN in Aden

Dep. Chief of Staff talks with European Ambassadors over Houthi militias' escalations

Minister Buhaybeh, UNFPA representative discuss interventions in health sector

Chairman of Presidential Council arrives in Dubai to participate in climate summit

Foreign Ministry condemns Dutch parliamentarian's denial of the rights of Palestinian people