[31/08/2022 03:51]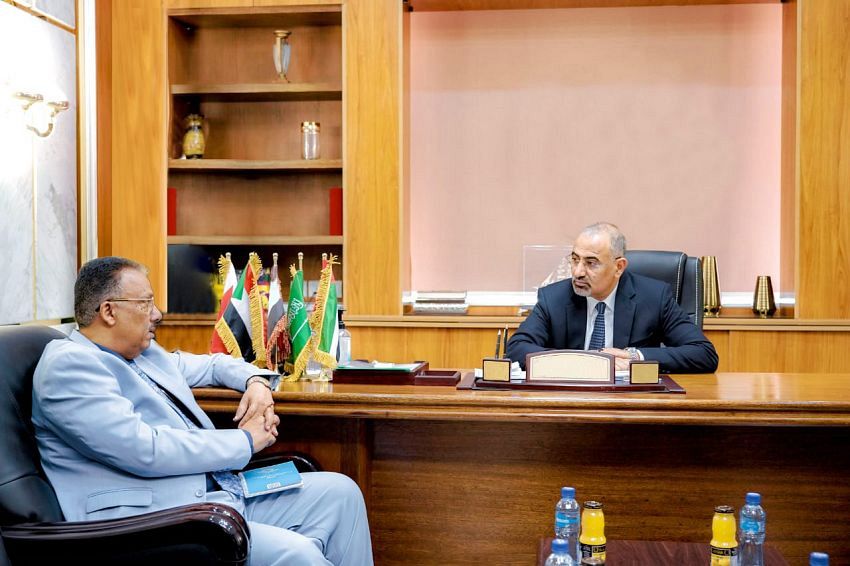 Aden – Saba
A member of the Presidential Leadership Council, Major General Aidarous Qassem Al-Zubaidi, met in the temporary capital of Aden today, Wednesday, the head of the Customs Authority, Abdul Hakim Al-Qubati.

The member of the Leadership Council listened from the head of the authority to a detailed explanation of the work progress in the authority's presidency and its offices at land, sea, and air ports, and the efforts made by the authority's presidency and the Ministry of Finance in order to activate customs regulations and laws and inventory customs revenues in all governorates and supply them to the Central Bank.

Major General Al-Zubaidi stressed the need to exert more efforts to rehabilitate the infrastructure of the institutions affiliated with the Customs Authority, modernize the systems and techniques for inspection, standardize customs procedures, and provide the authority's institutions and offices with qualified and trained competencies in a way that contributes to raising the efficiency of customs ports and reducing the time of customs clearance, while maintaining on the security of the citizen and the smooth passage of commercial goods.

For his part, Al-Qubati expressed his thanks and gratitude to Major General Al-Zubaidi for his supportive stances to the authority and overcoming the difficulties that obstruct the progress of work in it, stressing the keenness of the Ministry of Finance and the Presidency of the Customs Authority to develop the customs sector and restore its economic role as one of the vital economic resources of the state.


---

Yemen joins 33rd Session of the General Assembly of the IOM in London

Defense Minister discusses with US, UK ambassadors latest developments in Yemen

Yemen, Korea discuss cooperation in fight against terrorism

Yemeni Prime Minister updates EU diplomats on the peace efforts, government's reforms

Two children killed in Houthi-laid landmine blast in Al-Baydha

Mahra Governor discusses with UNOPs' representative damages left by hurricane

PM chairs cabinet meeting in Aden to discuss developments on the local and external levels

Yemen participates in UNIDO general conference in Vienna

Al-Zindani and Chinese Chargé d'Affairs open a symposium on Yemeni-Chinese relations

Defense Minister receives Chinese diplomat